Excerpts: Leaked Palestinian 'proposals'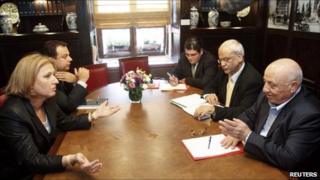 A leak of confidential records of Middle East talks has revealed that Palestinian negotiators at one stage privately agreed to accept Israel's annexation of all but one of its settlements built illegally in occupied East Jerusalem.
The documents also show how the Palestinians offered concessions on the status of Haram al-Sharif in Jerusalem, which houses the Dome of the Rock and Al-Aqsa Mosque, the third holiest site in Islam.
The papers, which appear to come from the Palestinian side, are published by the Arabic news network, al-Jazeera, and the Guardian newspaper. They could not be independently verified and the chief Palestinian negotiator has dismissed them as a "pack of lies".
East Jerusalem settlements
The UK Guardian reports that at a meeting in June 2008, the Palestine Liberation Organisation (PLO) negotiating team formally offered to allow Israel to annex all Jewish settlements built in occupied East Jerusalem, except Har Homa (Jabal Abu Ghneim).
"This is the first time in history that we make such a proposition," said the Palestinian negotiator Ahmed Qurei.
"We refused to do so in Camp David," he added, referring to the failed summit hosted by US President Bill Clinton between the late Palestinian leader, Yasser Arafat, and then Israeli Prime Minister Ehud Barak.
Mr Qurei also said the Palestinians could not agree to the annexation of the major West Bank settlements of Maale Adumim, Ariel, Givat Zeev and Ephrat, because Israel was creating a "settlement belt around Jerusalem".
Nearly half a million Jews live in more than 100 settlements built since Israel's 1967 occupation of the West Bank and East Jerusalem. They are held to be illegal under international law, although Israel disputes this.
At a meeting the previous month, Mr Qurei had presented maps envisioning a Palestinian state encompassing Har Homa and Maale Adumim, and raising the possibility of the Palestinians conceding part of the predominantly Arab East Jerusalem district of Sheikh Harrah in return for an "equivalent area" of land.
The chief Palestinian negotiator, Saeb Erekat, told the Israeli representatives: "It is no secret that... we are offering you the biggest Yerushalayim [the Hebrew word for Jerusalem] in history. But we must talk about the concept of al-Quds [Jerusalem in Arabic].
"We have taken your interests and concerns into account, but not all. This is the first time in Palestinian-Israeli history in which such a suggestion is officially made," he added.
But the Israeli negotiator, then Foreign Minister Tzipi Livni, dismissed the offer because it did not include Har Homa or the settlements in the West Bank to which the Palestinians objected.
"We do not like this suggestion because it does not meet our demands, and probably it was not easy for you to think about it, but I really appreciate it," she said. "I think we have a reason to continue."
Haram al-Sharif/Temple Mount
In October 2009, Saeb Erekat told David Hale that he was prepared to consider "creative ways" to solve the problem of control of the Temple Mount/Haram al-Sharif (Noble Sanctuary) complex in Jerusalem - the holiest site in Judaism and Islam's third holiest shrine.
"Even the Old City can be worked out except the Haram and what they call Temple Mount. There you need the creativity of people like me," he said, according to the Guardian.
"It's solved... there are creative ways, having a body or a committee."
Palestinian desperation
At a meeting with US President Barack Obama's Middle East envoy, George Mitchell, in Washington in October 2009, Saeb Erekat complained that Israel was not even willing to freeze settlement construction to show it was serious about the negotiations and to bolster the Palestinian Authority.
"Nineteen years of promises and you haven't made up your minds what you want to do with us... We delivered on our Road Map obligations. Even Yuval Diskin [the director of Israel's internal security service, Shin Bet] raises his hat on security. But no, they can't even give a six-month freeze to give me a fig leaf," he was quoted as saying by the Guardian.
Mr Erekat accused the US government of being interested only in "PR, quick news, and [that] we're cost free".
"What good am I if I'm the joke of my wife, if I'm so weak?"
Ehud Olmert's offer
Negotiations were complicated by private talks between Palestinian Authority President Mahmoud Abbas and then Israeli Prime Minister Ehud Olmert, after which aides complained they did not know what had been discussed.
In August 2008, shortly before he resigned because of corruption allegations, Mr Olmert presented a "package deal" which was rejected by Mr Abbas.
A summary provided by Saeb Erekat said Mr Olmert had proposed that Israel annex 6.8% of the West Bank, including the four main settlement blocs of Gush Etzion, Maale Adumim, Givat Zeev and Ariel, as well as all of the settlements in East Jerusalem, in exchange for the equivalent of 5.5% of Israeli territory.
The establishment of sovereignty over the "holy basin" - including the Temple Mount/Haram al-Sharif - "would be delayed to a later stage", the document said.
On the subject of Palestinian refugees, Israel would acknowledge their "suffering", but not responsibility for it, the document added. Israel would also take in 1,000 refugees per year for five years "on humanitarian grounds", and "contribute" to compensation for the remaining refugees.
Embarrassing comments
During a meeting in June 2005 at the residence of then Israeli Prime Minister Ariel Sharon, Mahmoud Abbas was recorded as noting "with pleasure the fact that Sharon considered him a friend and the fact that he too considered Sharon a friend", according to the Guardian.
The Palestinian Authority president added that "every bullet that is aimed in the direction of Israel is a bullet aimed at the Palestinians as well".
Mr Sharon is held responsible by many Palestinians for the massacre by Lebanese militiamen allied to Israel of at least 800 people at the Palestinian refugee camps of Sabra and Shatilla in 1982.
In March 2008, the documents show Ahmed Qurei greeted the then US Secretary of State, Condoleezza Rice, with the words: "You bring back life to the region when you come."
And during talks in Jerusalem in June 2008, three months before a leadership election in Israel's Kadima Party to find a successor to Ehud Olmert, Mr Qurei told Tzipi Livni: "I would vote for you."
"Between [then Deputy Prime Minister Shaul] Mofaz and me you don't have much of a dilemma," Ms Livni replied.
Israel's expansionist policy
During negotiations in Jerusalem in November 2007, Tzipi Livni was recorded as confirming the Palestinian negotiators' suspicions that "Israel takes more land [so] that the Palestinian state will be impossible", according to the Guardian.
It had been "the policy of the government for a really long time", she told Ahmed Qurei.
Demilitarised state
At a meeting in May 2008, Saeb Erekat rejected Israel's policy that any future Palestinian state would have to be entirely demilitarised.
"Short of your jet fighters in my sky and your army on my territory, can I choose where I secure external defence?" he asked Tzipi Livni, according to the Guardian.
"No," she replied. "In order to create your state you have to agree in advance with Israel - you choose not to have the right of choice afterwards."
The following year, Mr Erekat told George Mitchell that the Palestinian leadership now "know that we will have a country with limitations".
"They won't have an army, air force or navy," he added.
Warnings to US
In October 2009, Saeb Erekat warned US officials that if they failed to broker a peace deal soon, they would soon be dealing with the Palestinian Islamist movement, Hamas, which does not recognise the State of Israel.
"In no time you will have Aziz Dweik as your partner," he said, according to the Guardian, referring to the speaker of the Palestinian Legislative Council (PLC), a Hamas member.
Mr Erekat also threatened at the same meeting to abandon attempts to negotiate a two-state solution in favour of announcing the formation of "one state and the struggle for equality in the state of Israel".