Iraq Shia cleric Moqtada Sadr 'returns to Iran'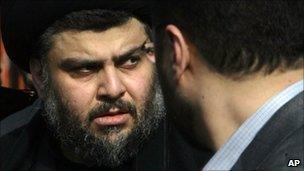 The radical Iraqi Shia cleric, Moqtada Sadr, left the country for Iran on Saturday, an aide has told the BBC.
He only returned to Iraq on 5 January after nearly four years of self-imposed exile in the Iranian city of Qom.
During his two-week visit, Moqtada Sadr addressed a rally attended by thousands of supporters in Najaf and held talks with political and religious leaders.
The move sparked conjecture about his intentions ahead of the withdrawal of US forces from Iraq later this year.
The situation in Iraq has changed since February 2007, when he fled to Iran after a warrant was issued for his arrest and his Mehdi Army militia was blamed for the abduction and torture of thousands of Sunnis.
Based in the holy city of Qom, he is said to have devoted his time to theological studies in the hope of eventually becoming an ayatollah.
In August 2008, he ordered a halt to armed operations by his Mehdi Army militia, after Iraqi government and US forces launched major offensives against it in Basra and its Baghdad stronghold of Sadr City.
Moqtada Sadr retained his influence, however, and his movement was given eight posts in the new government last year after he gave his backing to Prime Minister Nouri Maliki's campaign for a second term.
At the rally in Najaf on 8 January, he called on his supporters to continue to resist the US occupation, but also for Iraqis to seek unity.
"Let the whole world hear that we reject America. No, no to the occupier."
"We don't kill Iraqis - our hands do not kill Iraqis. We target only the occupier with all the means of resistance," he added.