Lebanon Druze leader Walid Jumblatt to back Hezbollah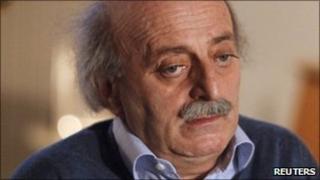 Lebanese politician Walid Jumblatt has indicated he will back Shia militant group Hezbollah in its efforts to form a new coalition government in Lebanon.
The leader of Lebanon's Druze community said he had decided to side with Syria and what he called the resistance.
PM Saad Hariri's unity cabinet collapsed last week after ministers from Hezbollah and its allies resigned.
Lebanon awaits the findings of a UN inquiry into the 2005 murder of ex-PM Rafik Hariri - Saad's father.
Hezbollah has vowed to retaliate if, as expected, its members are implicated, but Mr Hariri on Thursday said he would not stand aside and would seek to lead a new coalition government himself.
On Monday, the prosecutor of the Hague-based Special Tribunal for Lebanon submitted its first indictment in the case, but the names of the suspects will not be revealed unless charges are laid.
Correspondents say a protracted crisis is likely to follow, and there are widespread fears that it could lead to the type of sectarian violence last seen in May 2008, which left 100 people dead and brought the country close to civil war.
'Landmark step'
A former ardent supporter of the court and one-time opponent of Syria, on Friday Mr Jumblatt said it posed a "threat to national unity and national security".
Mr Jumblatt has refused to say exactly how many lawmakers are backing him but it is acknowledged that his support is key for any candidate trying to form a government.
The backing of at least 65 is required to form a government in Lebanon's 128-seat parliament. Hezbollah and its allies already claim 57 seats.
Hezbollah has denounced the UN-backed probe, calling it a US-Israeli plot, and denies any involvement in the killing. But supporters of the tribunal say it is a landmark step towards justice in the country.
President Michel Suleiman is expected to launch formal talks on Monday on creating a new government, polling lawmakers on their choices before nominating a prime minister.
According to Lebanon's power-sharing system, the president must be a Maronite Christian, the premier a Sunni Muslim, and the speaker of parliament a Shia Muslim.