Cairo's al-Azhar freezes Vatican talks over Pope remark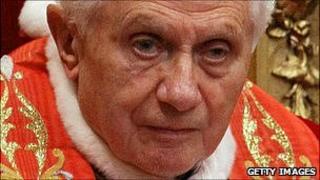 One of the leading institutes of learning in the Muslim world, Cairo's al-Azhar institution, has suspended its dialogue with the Vatican.
Al-Azhar said the move was in protest against a recent call from the Pope for greater protection of Christians in the Middle East, following a series of attacks on Christians in the region.
Al-Azhar said the Pope had "repeatedly addressed Islam negatively".
Recently a bomb attack on an Alexandria church killed 23 Coptic Christians.
Afterwards Pope Benedict XVI called on Middle Eastern governments to do more to protect Christians in their countries.
The Egyptian government denounced the comments as "unacceptable interference" and withdrew its ambassador from the Vatican for consultations.
Now the Al-Azhar Institution, which is close to the Egyptian government, has suspended indefinitely a twice-yearly dialogue it held with the Vatican.
The talks were designed to improve understanding between Sunni Islam and the Roman Catholic Church.