Hariri tribunal: Saudi Arabia quits Lebanon mediation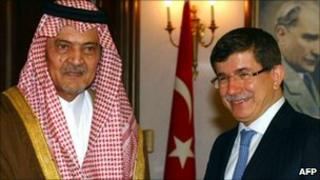 The Saudi foreign minister says Riyadh has abandoned mediation efforts to end the political crisis in Lebanon caused by the UN-backed Hariri tribunal.
King Abdullah ended the Saudi-Syrian initiative because of a lack of progress, Prince Saud al-Faisal said.
There are fears of sectarian clashes as Lebanon awaits the findings of the international inquiry into the murder of ex-Lebanese PM Rafik Hariri in 2005.
Hezbollah has vowed to retaliate if, as expected, its members are implicated.
Last week, the powerful Shia movement brought down the government of Prime Minister Saad al-Hariri - Rafik Hariri's son - over his refusal to denounce the tribunal and cut off its funding.
Turkish and Qatari delegations are currently in Lebanon to mediate between the political groups.
'Partition' of Lebanon
In an interview with al-Arabiya television, Prince Saud al-Faisal said the king was "pulling his hand out" of Lebanon and warned of a "dangerous" situation there.
He said efforts by King Abdullah and Syrian President Bashar al-Assad - who respectively exercise great influence on Lebanon's Sunni and Shia camps - had failed to reach a suitable compromise.
He warned that the crisis could lead to the "partition" of Lebanon, where political allegiances typically run along religious and sectarian lines.
Hezbollah has denounced the UN-backed probe, calling it a US-Israeli plot, and denies any involvement in the killing. But supporters of the tribunal say it is a landmark step towards justice in the country.
On Monday, the prosecutor of the Hague-based Special Tribunal for Lebanon (STL) submitted its first indictment in the case, but the names of the suspects will not be revealed unless charges are laid.
Turkey's Foreign Minister Ahmet Davutoglu and Qatari Prime Minister Sheikh Hamad bin Jassem bin Jaber al-Thani are now leading efforts to defuse the crisis amid mounting fears of sectarian violence.
Local media said they were trying to revive the failed Syrian-Saudi initiative, which called for Saad Hariri to disavow the STL in return for guarantees from Hezbollah concerning its weapons arsenal.
In the meanwhile, consultations on forming a new government have been postponed until next week.
Correspondents say a protracted crisis is likely to follow, and there are widespread fears that it could lead to the type of sectarian violence last seen in May 2008, which left 100 people dead and brought the country close to civil war.