Arabs submit settlement resolution to Security Council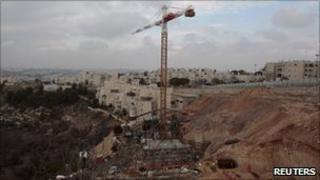 Arab nations have formally submitted a resolution to the UN Security Council condemning Jewish settlement building in the occupied West Bank.
They did so despite objections from the US, which many expect would veto the resolution if it was brought to a vote.
The Palestinians say they are turning to the Security Council because US attempts to get a settlement building freeze have so far failed.
They pulled out of direct talks with Israel over the issue in October.
Nearly half a million Jews live in more than 100 settlements built since Israel's 1967 occupation of the West Bank and East Jerusalem. They are held to be illegal under international law, although Israel disputes this.
Considerable support
The resolution condemns Israeli settlement construction in the occupied Palestinian Territories, and says it is an obstacle to achieving peace.
The BBC's Barbara Plett, at the UN's headquarters in New York, says that much of the language has been used before by the UN, and even by the current administration of US President Barack Obama, which made a settlement freeze a focus of its attempt to resurrect Israel-Palestinian negotiations.
That failed, so the Arabs turned to the Security Council despite US objections, our correspondent says.
The US traditionally protects Israel against criticism at the UN and does not want to be forced to veto a resolution based on what was its own policy, she adds.
Attempts to bring it on side will continue before any vote.
Diplomats say options include modifying the language of the resolution, or perhaps convincing the Palestinians to abandon the effort in exchange for American proposals more acceptable to them.
Our correspondents say that aside from the US, there is considerable support at the UN for the move. Three of the resolution's co-sponsors are members of the Security Council.
The Palestinians say they are trying to galvanise international pressure on Israel to stop settlement construction so that talks can resume.
The Israelis accuse them of using the issue to avoid negotiations.
Whatever the case, the initiative starkly illustrates the level of Palestinian frustration and the failure of the US government's Middle East policy, our correspondent adds.