Israel to extradite man accused of Srebrenica link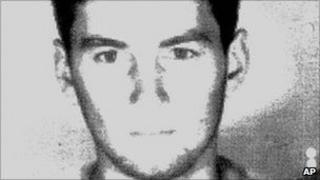 Israel has launched extradition proceedings against an immigrant from the former Yugoslavia accused of involvement in the Srebrenica massacre.
Between 7,000 and 8,000 Muslim men and boys were killed by advancing Bosnian Serb troops in July 1995.
The massacre was the worst atrocity in Europe since World War II.
Bosnian authorities accuse Aleksander Cvetkovic, a Bosnian Serb, of being a member of a military firing squad accused of shooting up to 1,200 people.
The shooting took place at Branjevo Farm.
According to evidence in the Israeli prosecutors' extradition request: "The victims were brought by buses to the execution site, some blindfolded with their hands tied, stood up in rows and shot by the soldiers, using automatic rifles, heavy machines guns and pistols."
Mr Cvetkovic, 42, who moved to Israel in 2006, was arrested on Tuesday and is being held in Israeli police custody.
On Wednesday, prosecutors are expected to seek the approval of the Jerusalem District Court to extradite him to Bosnia-Herzegovina to face charges of genocide.
Other former members of his unit have been investigated by a Bosnian war crimes court. It has already prosecuted a number of others, mostly Serbs.
The United Nations war crimes tribunal for the former Yugoslavia in The Hague also sentenced 14 Bosnian Serbs over the Srebrenica massacre which took place at the peak of a 1992-95 civil war that claimed 100,000 lives.
Srebrenica was in a zone protected by the UN until it fell to the Serbs.
Israel's justice ministry says Mr Cvetkovic secured Israeli citizenship through his marriage to a Jewish woman with whom he has children.
He could not ask to serve any eventual prison time in Israel because the crimes he is accused of pre-date his immigration, the ministry added.
Officials say that the extradition process could be lengthy.
Last week, a group of Israelis wanted on charges of organised crime in the US were extradited following an appeals process of almost two and a half years.