Hariri tribunal: Indictment renews Lebanese fears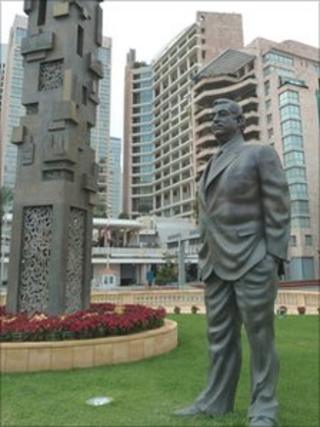 As the UN-backed tribunal issues its sealed indictment, the BBC's Middle East editor Jeremy Bowen talks to ordinary Lebanese about their fears for the future.
I went out to get manoosh this morning. It is a delicious Lebanese snack - a disc of flat bread baked in a red hot oven and covered in cheese, olive oil and zaatar, a Middle Eastern herb a bit like thyme. You can get meat too.
After he pushed it into the oven with a long wooden paddle, the man in the shop asked if I was a journalist.
"What do you think is going to happen in Lebanon?"
"You tell me," I said. "You're Lebanese."
The problem, he said, is that no-one knows.
That vacuum is being filled by some dire memories. The other day the hotel porter asked if I thought there would be war in Lebanon.
The stakes in this latest round in Lebanon's long-running crisis are very high.
The Special Tribunal for Lebanon, which was established by the UN Security Council to investigate the assassination of the former Lebanese Prime Minister Rafik Hariri in Beirut in 2005 has now issued its first indictment.
It has not published any names or charges. The dossier will be with a pre-trial judge in The Hague for the next six to 10 weeks who will determine if there is a case to answer.
Finger pointing
The assumption here, based on leaks and some background briefings from diplomats, is that Hezbollah operatives are named in the indictments.
Hezbollah is the Shia Muslim movement which has built itself, with the help of Iran and Syria, into the most powerful military formation in Lebanon, as well as a highly successful political and social organisation.
Hezbollah's leader, Hassan Nasrallah, is doing all he can to discredit the tribunal, denouncing it as a tool of the US and Israel.
He has persuaded many Lebanese - and not just his most faithful followers - that the tribunal has relied on so-called "false witnesses".
Mr Nasrallah has a reputation for keeping his word.
He has said Hezbollah will not stand for any accusations, and brought down the national unity government last week when he pulled his ministers out.
His followers will expect another response when the names in the indictment are published, and he will lose face if he does not produce one.
Leaked tapes
Rafik Hariri's position as leader of Lebanon's Sunnis, and more recently his job as prime minister, were inherited by his son Saad, now reduced to interim head of a caretaker government.
Saad al-Hariri has so far resisted huge pressure to break with the tribunal.
The campaign to discredit him reached a climax in the weekend before the indictment was issued.
Tapes of his testimony to tribunal investigators in 2005 and 2007 were broadcast by a Beirut TV station. Either they came from the tribunal itself or the room was bugged.
The intention seems to have been to present him as one of the "false witnesses".
On one extraordinary tape, Mr Hariri accuses the then closest advisers of Syria's President Bashar al-Assad - his brother and brother-in-law - of instigating the assassination, and persuading the president to authorise it.
He also claims that before the assassination, the head of Syrian intelligence in Lebanon, Rustum Ghazali, was extorting huge sums of money from Rafik Hariri, who was a billionaire.
The Syrians, he said, told his father that they would orchestrate campaigns against him unless he paid up.
Syria was forced out of Lebanon after the assassination, which also killed more than 20 of the late Mr Hariri's entourage as well as passers-by.
But since then it has reasserted itself.
Last year, Saad Hariri, in what he made clear was a political act, withdrew his other public accusations of Syrian involvement in the assassination.
Syria denies it had anything to do with the death.
International attempts to calm this crisis continue, but up to now have not been successful.
It matters because Lebanon is the latest theatre in the face-off between the United States and its allies, especially Saudi Arabia - and Iran, Syria and their allies.