Orthodox Christians at River Jordan Epiphany gathering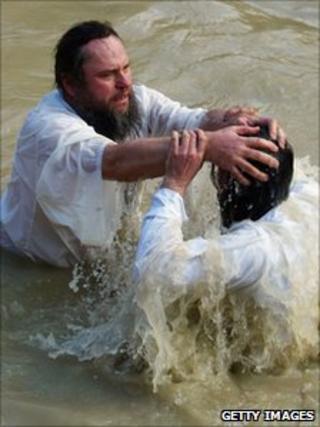 As many as 20,000 Orthodox Christians are expected to gather on the banks of the River Jordan to celebrate the annual feast of the Epiphany.
Crowds of Greek and Russian Orthodox Christians - both local pilgrims and tourists - will join a procession to the river by Qasr al-Yahud.
Access to the site near Jericho in the occupied West Bank has often been restricted as it falls within an Israeli military zone.
Pollution is also a concern.
The spot is believed to be where Jesus was baptised and is one of the most important places for Christians in the Holy Land.
Recently Israel's tourism ministry has invested over $2m (£125m) in the site and has sought to ease access to it.
This is restricted as it straddles the border with Jordan and the western side falls in an Israeli military zone.
Last year there were also new warnings about pollutants in the River Jordan from sewage and farming chemicals.
Environmentalists said the high concentration was caused by over-extraction of water.