Yemen convicts Frenchman's killer and Anwar al-Awlaki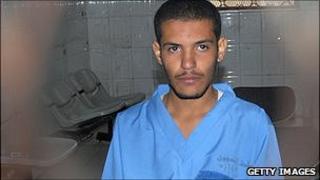 A Yemeni court has sentenced a man to death for killing a French contractor near the capital Sanaa last year.
The court also sentenced in his absence radical US-born Yemeni Islamist cleric Anwar al-Awlaki to 10 years in jail for aiding the gunman.
Awlaki, described by the US as a "global terrorist", is believed to be hiding in southern Yemen.
On the same day the contractor was shot, suspected al-Qaeda militants fired a rocket at a UK diplomat's car.
Five staff members all survived the attack in Sanaa with no major injuries.
The special security court in Sanaa passed the death sentence on Yemeni teenager Hisham Mohammed Assem for killing French energy contractor Jacques Spagnolo last October.
"I reject the verdict and will appeal," Assem, 19, told the court. Several French diplomats attended the hearing.
A relative of Awlaki, Othman al-Awlaki, was also sentenced in absentia to eight years in prison.
"This crime was committed under the incitement of Anwar and Othman al-Awlaki," the judge said.
The court accused the three men of "working within a terrorist group", but made no mention of al-Qaeda.
Washington has named Anwar al-Awlaki as a "specially designated global terrorist".
Officials say he is a leader of al-Qaeda in the Arabian Peninsula, an offshoot of the militant network based in Saudi Arabia and Yemen.