Iraqi soldier guns down two US troops in Mosul drill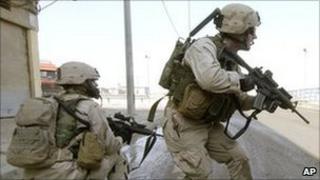 Two US soldiers have been killed when an Iraqi soldier opened fire on them during a training exercise in northern Iraq, US and Iraqi officials say.
The officials - speaking on condition of anonymity - said the incident happened at al-Ghazlani training camp in the city of Mosul.
It was the final drill to showcase US efforts in training Iraqis before next week's visit by US and Iraqi generals.
The Iraqi soldier who opened fire was arrested, US military officials said.
Separately, a US soldier was killed in central Iraq.
The US military gave no further details of the circumstances of that incident.
Motive unclear
"According to available information, two American soldiers were killed today (Saturday) during a training session inside al-Ghazlani," an Iraqi colonel in Mosul was quoted as saying by Reuters.
Another US soldier was injured in the incident.
This was confirmed by a US military official in the city.
In a statement later on Saturday, the US military said that two US soldiers were killed and one was wounded while conducting operations in northern Iraq, without providing further details.
The US soldiers were from the 4th Brigade, 1st Cavalry Division, based at Ft Hood, Texas, according to the Associated Press news agency.
Attacks by Iraqi soldiers or police against US troops in northern Iraq are rare but not unprecedented.
In 2009, two Iraqi police officers opened fire on US soldiers and Iraqi police in Mosul. One US soldier was killed in the attack.
An Iraqi army soldier shot dead two US troops and injured another six in the city.
Washington officially ended combat operations in Iraq last August, leaving fewer than 50,000 US troops in Iraq.
The soldiers' role is to advise and assist Iraq's security forces in fighting insurgents.