Q&A: Hariri Tribunal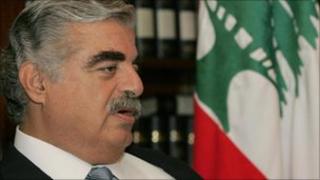 An international court in the Hague is due to begin the trial of four men accused of murdering the former Lebanese Prime Minister Rafik Hariri in 2005. The four suspects - all linked to the Shia movement Hezbollah - are on the run and will be tried in their absence by the UN-backed Special Tribunal for Lebanon.
Hariri was killed by a car bomb in Beirut in February 20, causing political upheaval in Lebanon that led to the withdrawal of Syrian troops.
Hezbollah has repeatedly denied any involvement in the attack and said the assassination was part of an Israeli and US conspiracy
The murder fuelled sectarian tension in Lebanon that has since been worsened by the conflict in Syria.
What is the Hariri tribunal?
The UN Security Council voted in 2007, at Lebanon's request, to set up the Special Tribunal for Lebanon (STL) to try those behind the 2005 assassination of former Prime Minister Rafik Hariri.
Hariri and 21 other people died when a massive blast ripped through his motorcade in central Beirut.
The tribunal, sitting in The Hague, was formally opened in March 2007. The court consists of 11 judges, seven international and four Lebanese.
Half of the tribunal's budget - 59.9 million euros ($82m, £50m) in 2013 - comes from Lebanon's government.
What are its major findings?
In its early stages, the UN investigation, led by German judge Detlev Mehlis implicated top-level Syrian security officials. Critics said the tribunal was part of US policy aimed at regime change in Syria.
However in 2011, the tribunal indicted four suspects connected with the powerful Lebanese Shia political and militant movement Hezbollah. They are Mustafa Amine Badreddine, known as a senior military operative, Salim Jamil Ayyash, Hussein Hassan Oneissi and Assad Hassan Sabra.
Under the current prosecutor Norman Farrell, the tribunal indicted a fifth man, Hassan Habib Merhi, in August 2013. His case has yet to be brought into the current trial.
Both Hezbollah and Syria - which was forced to pull its troops out of Lebanon and relax its domination of its neighbour in the wake of the killing - have vehemently denied any role in the 2005 assassination.
Hezbollah, for its part, has dismissed the tribunal as an "Israeli instrument", and produced what it regards as evidence that Israel was involved in the bombing.
Why has the tribunal proved so divisive in Lebanon?
From the very start, the tribunal has been a political flashpoint in Lebanon, pitting pro-Western groups linked to then-Prime Minister Saad Hariri, who is Rafik Hariri's son, against Hezbollah and its allies, backed by Syria and Iran.
By implicating Hezbollah members in the assassination of Rafik Hariri, the tribunal is basically accusing Lebanon's most powerful Shia group of involvement in the murder of the country's dominant political figure back in 2005.
There were widespread fears the trial could open a new chapter of sectarian tensions, such as those seen in 2008, when Hezbollah fighters took over west Beirut and crushed pro-Hariri elements.
What has been the political fallout in Lebanon?
In January 2011, 11 Hezbollah-affiliated ministers resigned, bringing down the coalition government of Saad Hariri.
The group had wanted Mr Hariri to withdraw Lebanon's funding for the tribunal, stop all co-operation, and denounce the court's findings even before they were released. He had refused.
On 25 January of that year, the Hezbollah-backed business tycoon, Najib Mikati, was appointed as the prime minister-designate, tilting the balance of power in Lebanon towards Syria and Iran, and away from the Western-allied bloc that had headed governments for nearly six years.
Five months later, after much political wrangling, Mr Mikati unveiled a new heavily pro-Syrian administration that critics dubbed a "Hezbollah government".
He resigned in April 2013 amid disagreement over planned elections and a new government is yet to be formed.
Correspondents say Lebanon remains as dangerously divided now as it was in 2005.
Mohamad Chatah, one of Hariri's close associates and a staunch critic of Hezbollah, was killed in a bomb explosion in December 2013 only a few hundred metres from where the former prime minister died.
What is the potential fallout in the wider Middle East?
Lebanon's largest political factions are generally split into Sunni and Shia camps that are closely allied to opposing Middle East powers.
The backers of Lebanon's pro-Western camp, the US and Saudi Arabia, are engaged in a wider contest with the Shia power of Iran and its ally Syria, who support Hezbollah. Iran, Syria and Hezbollah are sworn enemies of Israel.
The interplay of these regional dimensions makes political instability in Lebanon, where Israel and Hezbollah fought a devastating war in 2006, potentially dangerous.
Political tensions have been exacerbated by the continuing conflict in neighbouring Syria.
Many Sunni Muslims in Lebanon sympathise with the Syrian rebels, while the militant Shia movement Hezbollah and its supporters back President Bashar al-Assad.
What happens next at the tribunal?
A spokesman for the tribunal has said that the start of the trial will be "a historic day for Lebanon and international justice". However, the suspects will not be in court because the Lebanese authorities have failed to arrest them.
The men are being tried as individuals, not as members of any organisation, and are unlikely to ever appear in court.
The trial is going to be a long-running affair, expected to last months, if not several years, if it gets the funding.