Hariri 'caretaker PM' as Lebanon seeks new government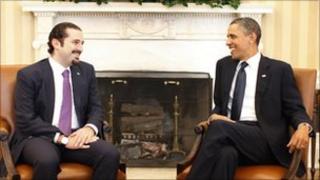 Lebanon's president has asked Saad al-Hariri to stay on as a caretaker prime minister after his government was toppled by Hezbollah and its allies.
The crisis was sparked by a dispute over the UN tribunal investigating ex-Prime Minister Rafik Hariri's murder.
President Michel Suleiman has started consultations over the choice of a new premier, with Mr Hariri due to return to Beirut from a visit to France.
The Arab League appealed for calm over Lebanon's "tense" security situation.
Hezbollah - the powerful Shia social, political and militant group - opposes the UN-backed tribunal, which is expected to indict several of its members over the 2005 assassination of Rafik Hariri in a massive truck bomb in central Beirut.
The first sealed indictments are expected as early as next week, although their release has been delayed several times already.
Many Lebanese want to know who killed Rafik Hariri, but fear the quest for justice could lead to conflict on the streets, says the BBC's Owen Bennett Jones in Beirut.
Caught off guard
Lebanon's political parties are now trying to form a new governing coalition, after the resignation on Wednesday of 11 ministers from Hezbollah and its allies, which brought down the Hariri-led administration.
They said the prime minister had rejected their demands for an urgent cabinet session to discuss withdrawing all co-operation with the UN-backed Special Tribunal for Lebanon (STL) and denouncing any indictments.
Mr Hariri was in Washington for a meeting with President Barack Obama when his ministers made their move.
He then moved on to Paris for a meeting with French President Nicolas Sarkozy, but has not publicly commented on developments.
He is expected back in Beirut later on Thursday to complete the formalities that will end his government and see him ushered in as caretaker prime minister, our correspondent says.
If past practice is anything to go by, it is a position he may hold for some time as the politicians try to come up with another workable coalition, he adds.
Prime suspects
President Obama said the latest moves demonstrated Hezbollah's determination to block the government's work.
On Tuesday, Lebanese officials said that efforts by the Syrian and Saudi Arabian governments to reach a political compromise had failed. The opposition claimed that a potential deal was blocked by the US.
Rafik Hariri and 22 others were killed in February 2005 when a huge bomb exploded next to his motorcade in Beirut.
Syria was initially blamed for the assassination, and eventually forced in its wake to withdraw its troops from Lebanon after 29 years. In the past year, however, members of Hezbollah have emerged as prime suspects.
Hezbollah has rejected any suggestion of involvement in the assassination. Its leader, Hassan Nasrallah, has called the tribunal an "Israeli project" and warned of dire consequences if it indicts his followers.
There are widespread fears that a collapse of the government could spark an outbreak of sectarian violence, last seen in Beirut in 2008.