Kuwaiti PM in first visit to Iraq since Gulf War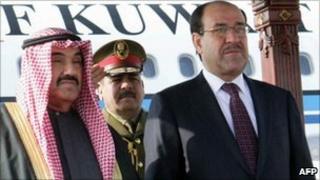 Iraq and Kuwait have pledged to resolve disputes dating from the 1990 Gulf War, during the first visit by a Kuwaiti premier to Baghdad since the conflict.
Sheikh Nasser al-Mohammed al-Sabah and Iraqi Prime Minister Nouri al-Maliki discussed issues relating to borders, security and finance, officials said.
The two neighbours are locked in a dispute over billions of dollars in war reparations from Baghdad, relating to Saddam Hussein's 1990-91 invasion.
It is the highest level visit since.
Diplomatic ties between the two countries were severed after the invasion, and only restored in 2008, some years after the overthrow of Saddam Hussein by a US-led coalition force in 2003.
Several countries have since written off Iraqi debts, but Kuwait, which has so far received about $13bn (8.3bn) in compensation from Iraq, is holding out for billions more. Iraq currently pays 5% of its oil revenues as compensation to Kuwait.
Kuwait also demands that Iraq return property stolen during the occupation and explain the fate of hundreds of missing Kuwaitis.
But they have agreed in principle on a deal to regulate production from oilfields along their shared border that were at the centre of their war.
The two sides agreed on Wednesday to form a committee to address outstanding issues, which will be jointly headed by the countries' foreign ministers, Ali Moussawi, an adviser to Mr Maliki was quoted as saying by AFP news agency.
"The committees will meet soon, to find solutions via dialogue," he added.
The rare visit comes just two days after a Kuwaiti coast guard member was killed in a clash with Iraqi fishermen near their disputed maritime border.