Hillary Clinton's historic visit to Yemen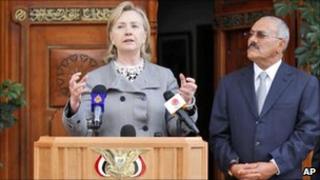 US Secretary of State Hillary Clinton spent three hours with Yemeni President Ali Abdallah Saleh at his presidential palace in Sanaa.
They had lunch and she stayed longer than expected, perhaps making up for lost time and trying to drive home the message that America cared about Yemen and its people.
The last time President Saleh hosted a US secretary of state was 20 years ago. James Baker came asking for Yemen's support for a UN resolution backing the use of force to remove Iraqi forces occupying Kuwait. He was rebuffed.
The Yemeni president told Mrs Clinton her visit was historic.
She didn't come asking for anything specific but she said she wanted the relationship between Yemen and the US to be more broad-based.
"We are committed to a balanced approach towards Yemen which includes social, economic, political assistance - the type that helps deal with all the problems Yemen is facing," she said.
"To that end we have rebalanced our aid package so that it is not so disproportionately consisting of the funding necessary for the counter-terrorism agenda but also includes these other priorities."
Palace gifts
Washington's assistance for Yemen has increased dramatically over the last couple of years, though it's still only at $300m (£192m) for both military and civilian assistance.
A senior American official said Mrs Clinton discussed counter-terrorism with Mr Saleh, but also devoted equal attention to Yemen's troubled politics as well as social and development issues.
The president focused a lot on counter-terrorism as though he wanted to convince Mrs Clinton that he was committed to eliminating what he considered a threat not only to the US but also to his own country, according to the American official.
Inside Mr Saleh's palace gifts from foreign countries and dignitaries were on display. There were dozens of gold coins, a handful of prayers beads, an ornate gold and emerald replica of an ancient Korean crown-like head ornament and a gold-plated assault rifle from Iran.
There were two gifts from the US: an old black powder gun from Gen Norman Schwarzkopf, when he was the Chief of Central Command, and also a colt revolver from the White House.
Clinton didn't bring any guns.
Instead she gave the Yemeni leader a silver tray - perhaps a symbol of how much the US had to offer to Yemen beyond counter-terrorism assistance?
Mr Saleh gave her a silver necklace which she wore during a statement she made in his company on the steps of the presidential palace after lunch.
Surprising openness
At Mr Saleh's suggestion, the US secretary of state then took a drive through the narrow winding streets of old Sanaa, despite security concerns.
Her heavily armoured motorcade of big suburban four-wheel drive vehicles barely squeezed past some corners, driving past stalls of sweets, spices and traditional Yemeni daggers.
Some people waved; many of the men, wearing traditional garb with daggers hanging on their belts, were chewing qat - a popular leafy stimulant. School children screamed "Ahlan!"- welcome in Arabic.
At a luxury hotel overlooking the city, Mrs Clinton held an informal meeting with students, non-governmental organisation workers, lawyers, doctors and legislators.
The relationship between the US and Yemen has been shaped by Yemen's role as a staging ground for al-Qaeda attacks against the US.
Washington's training of counter-terrorism units in Yemen and strikes against militants is highly controversial here and stokes anti-American feelings.
But Mrs Clinton was given a very warm, positive welcome.
Hardcore al-Qaeda sympathisers were clearly not invited to take part, but people in the audience showed a surprising degree of openness to the US and desire for more American assistance for their country.
One student asked for more scholarships to the US for Yemeni students, another asked for support to protect human rights in the country.
One legislator told Mrs Clinton that the reason for terrorism in his country was the one-party rule which bred discontent.
In this destitute country, where nearly half the population lives below the poverty line of $2 (£1.90) a day and more than 50% of children are malnourished, there seemed to be a genuine belief amongst the audience that America could help.
'Welcome change'
At the end of the meeting, Mrs Clinton said her faith in Yemen and its people had been restored.
She had of course come in contact with only a fraction of Yemeni society - an educated, engaged elite.
But it was still a stark contrast to the vitriol Mrs Clinton faced in Pakistan on her first visit there last October from the educated elite and students, who made clear they felt betrayed by the US and did not always welcome US assistance.
The fight against al-Qaeda will remain the most important item on Washington's agenda.
But for Yemenis, Mrs Clinton's visit seemed to be a welcome change from the usual procession of American military commanders and intelligence officials.
Mr Saleh thanked her repeatedly for her visit and after the meeting - as journalists travelling with Mrs Clinton were rushed out of the room and into a motorcade - a young Yemeni woman said she was both happy and grateful that the American secretary of state had visited her country.