Clinton in Yemen: Al-Qaeda militants 'urgent concern'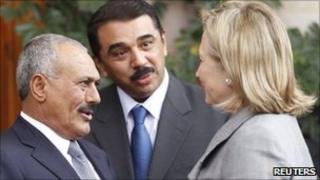 Al-Qaeda militants operating from Yemen are an "urgent concern" for Washington, Hillary Clinton has said on the first visit to Sanaa by a US secretary of state in 20 years.
But during the surprise visit, Mrs Clinton said the US sought to broaden ties with Sanaa beyond a military role.
She said US aid would also focus on Yemen's social and economic challenges.
Yemen has seen numerous anti-US attacks since the 2000 bombing of the USS Cole in Aden which killed 17 US sailors.
Just last month, CIA operatives narrowly escaped an attack in a Sanaa suburb, and militants from al-Qaeda in the Arabian Peninsula (AQAP) attacked the US embassy in Sanaa twice in 2008.
Recent attacks are thought to have been inspired by the radical US-Yemeni cleric Anwar al-Awlaki, thought to be hiding in Yemen.
The Yemen-based AQAP group is also thought to be behind a foiled attempt to blow up a US airliner over Detroit on Christmas Day 2009.
'Broaden the dialogue'
Mrs Clinton met Yemeni President Abdullah Saleh shortly after she landed in Sanaa under tight security.
"There are terrorists operating from Yemeni territory today, many of whom are not Yemeni, some of whom I'm sorry to say are American citizens," Mrs Clinton told a public gathering in Sanaa following talks with Yemen's president.
"So this is an urgent concern for both of us," she added.
Mrs Clinton, who is on a tour of Gulf states, said Washington wanted to address the underlying causes of the violence, including poverty and social inequality.
"It's not enough to have military-to-military relations," she said. "We need to try to broaden the dialogue. We need to have this dialogue with the government."
She said US aid would rebalance its Yemeni aid package in favour of social and economic reform.
Over the last couple of years, US military and civilian aid to Yemen has increased almost 100% to around $300m but experts say this is not enough to address Yemen's problems.
As well as fighting al-Qaeda, Yemen's government is trying to deal with a Shia rebellion in the north and a secessionist movement in the south.
"Yemen is keen on continuing bilateral discussions to address development and security challenges," the Yemeni embassy in Washington said in a statement on Tuesday.
Mrs Clinton's visit comes a month after cables released by Wikileaks suggested that Yemen had allowed secret US air strikes against al-Qaeda militants.
The leaked documents cite President Salehi as offering to pass off US bombs as Yemen's own, while another senior official jokes about lying to parliament about the US involvement in airstrikes.