Hamas urges Gaza militants to stop rockets into Israel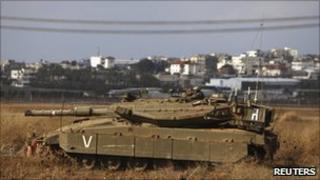 The Hamas Islamist movement which controls Gaza has urged other militant groups in the Palestinian territory to stop firing rockets into Israel.
Violence on the Gaza-Israel border has escalated in recent weeks.
Overnight, Israel again carried out air strikes in the north and south of the Gaza Strip.
Meanwhile over the weekend, right-wing members of the Israeli cabinet called for tougher military action against Hamas in Gaza.
Most of the rockets fired out of Gaza do not come from Hamas but from smaller militant groups.
Israel says Hamas could stop this from happening if it wanted to.
A spokesman for Hamas said the group had met other militant factions in Gaza over the weekend to try and bring "control of the situation on the ground".
In the past month, there has been an increase in violence.
Last week, Israel shot dead two Palestinians it said were trying to cross over the border from Gaza.
On Friday, an Israeli soldier was killed in a so-called friendly fire incident, when his colleagues inadvertently fired on him while fighting with Palestinian militants.