Iran crash jet 'black box' flight data recorder found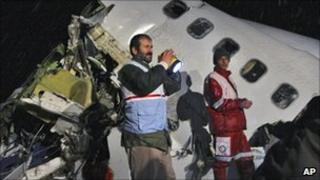 Investigators say they have found the flight data recorder of a passenger jet that crashed in north-west Iran, killing at least 77 people.
The IranAir Boeing 727, carrying more than 100 people, was flying from Tehran when it came down and broke into pieces near the city of Orumiyeh.
The pilots had reported a technical failure before trying to land on Sunday evening, state-run TV reported.
Transport minister Hamid Behbahani said 27 people were hurt, some critically.
He said the plane's data recorder was being studied by a committee probing the crash.
Reports differed as to whether the plane was carrying 104 or 105 people. Some reports said two people were still unaccounted for.
State news agency IRNA said two children were among the dead.
Survivor Hossein Haqiqi said the pilot had announced an emergency landing.
"Then, exactly like in the movies, the plane hit the ground and the lights went out. I fainted and was not conscious of anything," he was quoted as saying by Iran's ISNA news agency.
Another passenger, Nasrin Fatahzadeh, told how rescuers cut through aircraft seats to free her.
Television footage showed the plane's crumpled fuselage in a field, torn apart in several places, under whirling snow.
The heavy snow has hampered the search and rescue efforts, state emergency chief Gholam Reza told Fars news agency.
The plane was due to land in Orumiyeh, 700km (430 miles) north-west of Tehran.
It crashed near the city at around 1945 local time (1615 GMT) on Sunday, according to Iranian state television's website.
Ahmad Majidi, the head of the road and transport ministry's crisis panel, told ISNA it appeared that bad weather was a factor in the crash.
"Based on the evidence, the plane's captain could not land at Orumiyeh airport due to bad weather conditions and he decided to return (to Tehran)," he said.
"But for unknown reasons the plane crashed around five miles (8km) from the airport."
Reports suggest the aircraft was delivered to IranAir in 1974 and was the oldest passenger aircraft operating in the country.
Ageing fleet
There have been a number of accidents involving Iranian planes in recent years.
The last major crash was in July 2009, when a plane caught fire mid-air and crashed in northern Iran, killing 168 people.
In 2003 an Iranian troop carrier crashed in the south-east, killing all 302 soldiers and crew on board.
Iran's civil fleet is made up of planes in poor condition owing to their age and lack of maintenance.
The country has been under international sanctions for years, making it much more difficult to buy new aircraft or spare parts from the West.