Iran claims nuclear technology breakthrough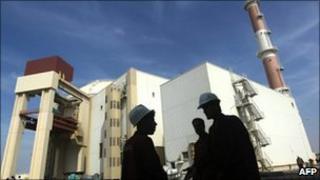 Iran's nuclear chief Ali Akbar Salehi says his country is now capable of making the fuel plates and rods used inside nuclear reactors.
Western analysts have previously said the Islamic republic did not possess such technology.
The US and other Western nations suspect that Iran is attempting to build nuclear weapons.
Tehran strongly denies the accusation, saying its nuclear programme is for peaceful civilian purposes.
Mr Salehi told Fars news agency that Iran had completed construction of a facility in the city of Isfahan to produce the plates and rods.
"We have built an advanced manufacturing unit in the Isfahan site for the fuel plates," Mr Salehi, who is also acting foreign minister, told Fars news agency.
"A grand transformation has taken place in the production of plates and rods. With the completion of the unit in Isfahan, we are one of the few countries which can produce fuel rods and fuel plates."
Fuel rods are designed to contain enriched uranium and are housed inside the nuclear reactor.
'Reality and truth'
Mr Salehi's comments come ahead of the next round of talks in Istanbul between Iran and six world powers - the US, UK, China, Russia, France and Germany - over Tehran's nuclear programme.
Mr Salehi said that Western policies had motivated Iran to reach its current level of nuclear technology, including the production of nuclear plates and rods.
"What we say is based on reality and truth. There is no exaggeration or deception in our work. It is them who do not want to believe that Iran has no intention but to obtain nuclear technology for peaceful purposes."
Iran is subject to United Nations Security Council sanctions over its refusal to halt uranium enrichment. Enriched uranium can be used for civilian nuclear purposes, but also to build atomic bombs.