Israeli troops kill Palestinian at West Bank checkpoint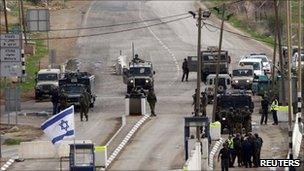 Israeli troops in the West Bank have shot and killed a Palestinian man who tried to attack a checkpoint, the Israeli army says.
The man leapt from a taxi and ran towards the checkpoint east of Nablus carrying a pipe bomb, ignoring orders to stop, a spokesman said.
Troops later found a second explosive device on his body.
Palestinian security officials said the man was a member of the militant group Islamic Jihad in the town of Jenin.
Last Sunday another Palestinian man was shot dead at the same checkpoint. Israeli officials said he had tried to attack troops with a bottle after they refused to let him through.
Correspondents say violence in the West Bank has eased in the past few years, but tensions have been running high over the past few days.
On Friday, Israeli soldiers shot dead an elderly Palestinian man in his bed, in the city of Hebron.
Amr Qawasme, who was in his 60s, was killed in what is thought to have been a case of mistaken identity during a series of raids to capture members of Hamas.
He was neighbour of a Hamas member who had been released from prison the day before.
Israel said Mr Qawasme was innocent and that it regretted the incident. An investigation is being carried out.