Egypt's nervy Christmas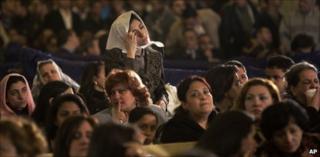 There were the usual chanted liturgies and wafting smells of incense, but church services on Coptic Christmas Eve in Egypt were different this year.
Christians had to park their cars long distances away from their places of worship and pass through extra security cordons just to enter for the customary late-night Mass that begins festive celebrations.
Many wore black to remember the 21 people killed in an attack on their community in Alexandria just five nights before.
"Today the church looks sad and people are dressed all in dark colours," said one man in central Cairo.
"The mood is solemn. Usually we wear bright garments to celebrate Christmas and laugh and smile."
Christmas decorations had also been taken down outside churches and prayers were read for the dead.
"I would like to condole our sons in Alexandria for the martyrdom of a large number of innocent people, who had committed no sin," said Pope Shenouda III, the head of the Coptic Church, in proceedings at St Mark's Cathedral in the capital.
Several government ministers and the President Hosni Mubarak's two sons, Gamal and Alaa, attended the packed service that was carried live on Egyptian television.
'Live together, die together'
At churches across the country, Muslims heeded calls to join Christian friends and neighbours for Mass - to act as shields against potential attacks by Islamist militants, and to show solidarity.
"I came because I condemn what's happening," said Jailan Batanouni, a Muslim at St Mary's church in the Zamalek district of Cairo.
"I want to share Christmas with my Christian friends to tell them not be afraid. If anything should happen we live together and we die together."
Some activists printed T-shirts showing the religious symbols of the two main faiths in Egypt - the Christian cross and the Muslim crescent - emblazoned with the words: "The sky of Egypt covers us all."
Al-Qaeda in Iraq had threatened Egyptian Christians in the weeks leading to the religious holiday. Extremist websites also posted names and addresses of suggested Coptic targets, raising concerns about a follow-up attack.
Yet the large congregations seen on Thursday suggest that Christians did not stay away from church.
"We won't stop coming because they blew up another church. That's just what they want," stressed Jan Mehany.
"I think this has just brought us closer to Jesus. Even people who don't normally come to church came here today."
Sami Abdul Messi, who lives close to St Mark's, said: "Whatever happens I must go to church.
"If they try to shoot me or blow me up I will still go because this is my religion. It is the birthday of our saviour, Jesus Christ."
Goodwill gesture
Police said that one primitive explosive device without a detonator was found in a church in the southern city of Minya on Christmas Eve. They will stay on high alert through Christmas Day, which falls on 7 January under the Coptic calendar.
The run-up to the holiday is marked by a 40-day period when meat and dairy products are avoided. At the end of the fast a big feast is eaten and gifts are exchanged.
However, some Christians say this year's revelries will continue to be toned down.
"Nobody is celebrating because they feel down about the bomb," said Adel, a Christian vegetable-seller in the Umraniya area of Cairo.
"People don't care about buying food to prepare a big Christmas dinner, or buying toys for children."
In what appears to have been a goodwill gesture, the last of more than 150 Christian demonstrators arrested in his district in November were freed on Wednesday.
Fighting with police broken out and two Copts were killed in a rally about the construction of a church.
Pope Shenouda and government leaders are continuing to call for calm and national unity amid more vocal complaints from Copts, who make up an estimated 10% of its 80 million people.
President Mubarak has promised to find those responsible for the new year's explosion, which he said targeted all Egyptians.