Israel kills two Palestinian men near Gaza Strip border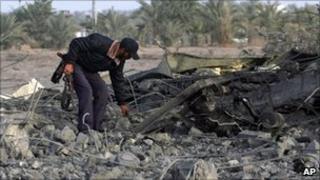 Israeli troops have shot dead two Palestinian men they say were trying to cross the border fence separating the northern Gaza Strip from Israel.
The deaths come after a month of increased tension along the border with frequent exchanges of fire.
Israel has carried out regular air strikes and there has been an increase in rocket fire from Palestinian militants.
Palestinian doctors retrieved the bodies of the men on Thursday morning.
The Israeli army says the men were targeted as they tried to climb the security fence in northern Gaza. This could not be independently confirmed.
Israel regularly fires on Palestinians close to the border. It says this is necessary to enforce what it calls a buffer or security zone.
In the past year, the United Nations says more than 70 Palestinians have been killed by Israeli action in Gaza.
During the same period, one Thai farm worker in Israel has been killed by rocket fire from Palestinian militants.