Abbas suspends Dahlan from Fatah over 'coup plot'
By Wyre Davies
BBC News, Jerusalem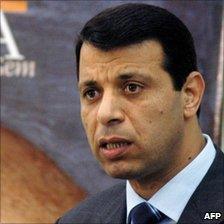 A senior figure in the Palestinian Fatah movement has denied plotting an internal coup to remove President Mahmoud Abbas.
Mohammed Dahlan has been suspended from Fatah's central committee pending an investigation into the allegations, which he describes as "fantastical".
There are increasing divisions in the movement, which runs the Palestinian Authority in the occupied West Bank.
Mr Dahlan was Fatah's security chief in Gaza before Hamas took over in 2007.
Although President Mahmoud Abbas enjoys strong backing from the international community, the 75-year-old's presidential term formally ended more than a year ago and he has been effectively governing by decree ever since.
With peace talks between Israel and the Palestinians indefinitely suspended, there is growing criticism in Palestinian circles of what some describe as Mr Abbas' weak leadership.
Among his critics is Mr Dahlan, a 49-year-old who is originally from Gaza.
Mr Dahlan has emphatically denied plotting a coup and expressed his full support for Mahmoud Abbas in a BBC interview.
"Abbas is the president of the Palestinian people and when he summons me, I will go to him. But this is an exaggerated story that is not good for Fatah or the Palestinian people," he said.
"There are those who want to stab Fatah in the back, but I won't give them the reason or means to do so. I am dedicated to the movement and I will not turn my back on it."
Taking no chances, President Abbas also closed the offices of a TV station with links to Mr Dahlan and removed his personal security detail.
Mr Abbas has also reportedly ordered an internal investigation into embezzlement, which could focus on Mr Dahlan's multi-million dollar fortune.
Such moves might succeed in neutering any immediate attempt by Mr Dahlan, or others, to force a change of leadership in the Palestinian Authority.
But there is no doubt, say observers, that President Abbas looks like an increasingly weakened and dispirited leader.
Related Internet Links
The BBC is not responsible for the content of external sites.