Alexandria church bomb: Egypt Coptic pope urges calm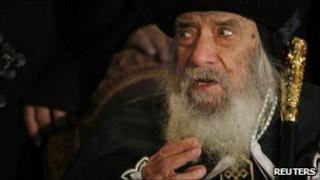 The head of Egypt's Coptic Church has appealed for calm as protesters clashed with police for a third day after a New Year's Day blast killed 23 churchgoers.
Pope Shenouda III also called on Egypt's government to address Christian concerns about discrimination.
Late on Monday, protesters again clashed with riot police in Cairo, demanding protection and justice.
Security has been increased at churches across Egypt, as Copts prepare to celebrate Orthodox Christmas on Friday.
The unrest came as investigators searched for those responsible for Saturday's church bombing in Alexandria.
The death toll has now risen by two to 23, Egypt's official news agency Mena said on Tuesday.
Anger in the streets
On Monday protesters in Cairo's northern Shubra neighbourhood threw rocks at police who tried to block a march by thousands of Copts.
Two officers and 12 policemen were wounded in the clash, along with at least 10 protesters, reports said.
"I call on our sons for calm, as calm can solve all issues," Pope Shenouda said in a television interview.
"The slogans used by some have transgressed all values and manners... and some have tried to use violence, while violence is absolutely not our method."
Monday's unrest came a day after 45 policemen were wounded in a clash with Coptic protesters outside St Mark's Cathedral in Cairo, where the Coptic leader has his headquarters.
Copts, who make up about 10% of Egypt's population, complain of discrimination, such as the legal requirement for them to obtain presidential permission to build churches.
In the interview, Pope Shenouda said the state must address Coptic complaints.
"There are laws that are painful to some, and despite our commitment to the laws, the pain is still there, and this needs to be addressed," he said.
'Never bow'
As protesters chanted "We will not be afraid" and "With soul and blood we will redeem the cross", another demonstrator, Rowany Salah, said the Christians would resist all attempts to intimidate them.
"We will never break and we will never bow... There will be nothing and nobody that can shake us or our beliefs".
Another protester, Hani Rashed, told Reuters news agency that all Christians now felt oppressed.
"The current situation is very critical because it's driving all of Egypt into a volcano," he said.
"This is our country just as much as it is [the Muslims]. We have a presence in the country, and we have to be considered, but we are completely placed on the sidelines," he added.
The attack in Alexandria was carried out by an apparent suicide bomber who targeted worshippers were leaving al-Qiddissin (The Saints) church after midnight Mass.
It was the worst attack on Christians in Egypt in more than a decade. No group has claimed it, but security officials say they are focusing on home-grown Islamic extremists - perhaps inspired by al-Qaeda.
Reports say there have been further threats against churches made on Islamist websites.
Police in France, Germany, Austria and Britain say they are increasing security measures.