Arab press angered by Coptic church blast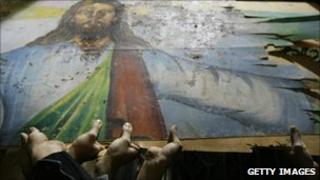 The Egyptian press has reacted angrily to the suicide bombing that targeted a Coptic church in Alexandria on New Year's Day, with several papers saying it was an attack on all Egyptians, not just Christians.
The state and opposition press called on their compatriots to unite in the face of terrorism but two papers suggested the underlying causes of sectarian tension should be tackled.
Elsewhere, Arab commentators speculated about who was behind the bombing, but two writers were concerned that the incident would prompt an exodus of Christians from the region.
EGYPT'S AL-AHRAM
People who think that what happened on Egyptian soil may have been a result of internal friction should reconsider... This cowardly attack... has taken the blinkers off. The message is clear. Egypt is targeted... everyone must urgently help to chop off the serpent's head that is spreading the poison of terrorism in the entire region.
EGYPT'S AL-AKHBAR
This treacherous criminal act not only targeted Egypt's Copts, but also its Muslims. It also targeted Egypt's stability, unity, destination and future... We are all in the same boat and we should join hands to confront those lurking to target Egypt's security.
EGYPT'S AL-JUMHURIYAH
The Egyptians' commitment to national unity increased after the blast at Alexandria's church... Feelings of anger were rampant and calls for unity and retribution grew, perhaps more from Muslims than Christians... this terrorist attack shocked the homeland and broke the hearts of all Egyptians.
ABBAS AL-TARABILI IN EGYPT'S AL-WAFD
I wish the state had taken the necessary precautions and had taken the threats by these militant groups seriously... It is not enough for a Muslim cleric to hug or kiss a Christian cleric.
AHMAD AL-SAWI IN EGYPT'S AL-MASRY AL-YOUM
The real battle is not against terrorism and will not end with the arrest of the sinful perpetrators. The real battle is against the environment that provokes tension.
DIYA RASHWAN IN EGYPT'S NAHDAT MISR
We need legislation to put an end to the Copts' state of frustration and all their problems.
YAHYA RABAH IN PALESTINIAN AL-HAYAT AL-JADIDAH
The explosion killed and injured Egyptians... Copts and Muslims. This shows that the criminal act was directed against Egypt - the fortress of moderation in the Arab world, Africa, and the Islamic world. This was a criminal attempt to undermine its great and enlightened role.
SAUDI AL-RIYADH
Targeting Egypt was not a haphazard act, but was done because Egypt is the powerhouse of a Middle East in crisis. Egypt was also a model of co-existence before it was placed in the line of terrorism by internal and external agents.
AHMAD AL-QUDWAH IN PAN-ARAB AL-ARAB AL-ALAMIYAH
It appears that sectarian incidents in Egypt are on the rise and there are people using these to achieve political objectives with dangerous repercussions.
TALAL AWKAL IN PALESTINIAN AL-AYYAM
The blast... was an extremely dangerous terrorist attack designed to undermine the unity of the Egyptian people. It could ignite a religious feud that could spread outside the Arab Republic of Egypt... All Egyptians agree that this conspiracy was woven by foreign hands and I think that Israel is the number one suspect.
MUHAMMAD JAMAL ARAFAH IN PALESTINIAN FILASTIN
I have no doubt whatsoever that the intelligence service of the Zionist enemy masterminded the criminal explosion that took place outside the al-Qiddissin Church in Alexandria. I also have no doubt that it was carefully prepared in a new way to pin the blame on the demented members of al-Qaeda in an attempt to start a feud between Muslims and Christians.
QATAR'S AL-RAYAH
Initial analysis points the finger at al-Qaeda... Other theories refer to the involvement of external forces that benefit from al-Qaeda's threats because they do not want Egypt to enjoy stability and welfare... They have a long-term aim to make the Copts feel persecuted, fearful and not tolerated, to start thinking about having a separate homeland.
SUBHI ZUAYTAR IN SAUDI AL-WATAN
The coming days will see incentives to make Egyptian Christians emigrate, as was the case in Iraq. Western planes will be ready to fly Egypt's Christians out and Western and Israeli media will reap the benefit.
URAYB AL-RINTAWI IN JORDAN'S AL-DUSTOUR
If the situation continues, it will not take long to declare the Middle East - the cradle of Christianity - Christian-free.
BBC Monitoring selects and translates news from radio, television, press, news agencies and the internet from 150 countries in more than 70 languages. It is based in Caversham, UK, and has several bureaux abroad.