Alexandria church bomb: Egypt police on high alert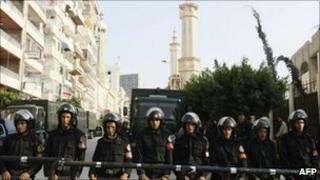 Hundreds of Egyptian riot police are deployed outside the church in Alexandria where 21 Christians were killed in a New Year's Day bomb attack.
On Sunday, crowds of Christians took to the streets of Alexandria and the capital, Cairo, to denounce the attack.
Several suspects are being questioned over the bombing, which the Egyptian authorities have blamed on foreigners.
The country is on high alert ahead of the Coptic Christmas holiday, which falls on Friday.
Security forces have tightened surveillance at airports and ports to prevent suspects from heading out of Egypt, and set up new checkpoints across the country, press reports said.
Meanwhile, the most senior Muslim cleric in Egypt, Sheikh Ahmed al-Tayeb, has accused Pope Benedict XVI of interfering in Egypt's internal affairs, after he called on world leaders to protect Middle East Christians.
Shock and anger
The situation in Alexandria is still very tense, the BBC's Rupert Wingfield-Hayes reports from the Mediterranean port city.
Ranks of riot police surrounded the church following sporadic clashes overnight between young Coptic men and police forces.
There are also fears of new protests by Copts following a large protest in Cairo on Sunday night outside St Mark's Cathedral - headquarters of Coptic leader Pope Shenouda III.
Forty-five policemen were wounded at that demonstration.
The overall feeling is one of anger and shock at the scale of the attack in Alexandria, our correspondent says.
The bombing killed 21 people and injured another 70 in the early hours of Saturday, while worshippers were leaving midnight mass at al-Qiddissin (The Saints) church to bring in the New Year.
There is a real feeling among Egypt's Coptic community that Christians are not being protected and that they are second-class citizens, our correspondent says.
Al-Qaeda threats
The Egyptian government is calling for unity, and the Muslim clergy and the Coptic Church have given a joint press conference in which they declared that the attack must not be allowed to divide the two communities.
But beneath the surface there is deep sectarian tension in Egypt that has been growing for the last 10 to 20 years, and people in the Coptic community are now very afraid, our correspondent says.
Dr Dalia Nabil, who has been treating many of the patients from the blast, told the BBC a lot of Copts were now thinking of leaving Egypt.
"A lot of us think that this is a plan to make Christians go away from Egypt. The planner is al-Qaeda," Dr Nabil said.
"Things are not under control from the government," she added.
No-one has claimed responsibility for the bombing, which happened in the early hours of Saturday, though analysts say suspicion is likely to fall on Islamist radicals inspired by al-Qaeda.
Christians in the Coptic Orthodox Church make up about 10% of Egypt's population. Most Egyptians are Muslims.
In recent months, some Muslims have accused churches of holding converts to Islam against their will - charges the Church denies.
In October, the Islamic State of Iraq, a militant umbrella group that includes al-Qaeda in Iraq, threatened the Copts of Egypt and called for the alleged converts to be released.
Papal 'interference'
The latest attack has been strongly condemned in Egypt and abroad.
President Hosni Mubarak said it bore the hallmark of "foreign hands" seeking to destabilise Egypt.
At the Vatican, Pope Benedict called it a "vile gesture", while US President Barack Obama has described it as a "heinous act".
However, the Imam of al-Azhar, Ahmed al-Tayeb, criticised Pope Benedict's call for world leaders to defend Christians as "unacceptable interference in Egypt's affairs".
German Chancellor Angela Merkel on Monday condemned the bombing as "barbaric" while French PM Francois Fillon prayed for the victims at a church in the southern Egyptian city of Aswan, where he was on a private visit, his office said.
Alexandria, Egypt's second-largest city with a population of about 4 million, has seen sectarian violence in the past.
In 2006, there were days of clashes between Copts and Muslims after a Copt was stabbed to death during a knife attack on three churches.