Iran nuclear talks: New round agreed in Geneva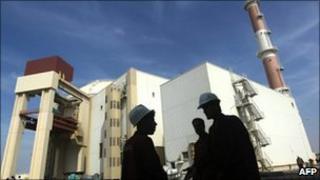 Iran and key world powers have agreed to meet for further talks on Iran's disputed nuclear programme, in January in Istanbul.
It follows two days of talks in Geneva which EU foreign affairs chief Baroness Ashton described as "substantive".
However, she said Iran must comply with its "international obligations".
Iran's chief negotiator, Saeed Jalili, said Iran would not discuss suspending uranium enrichment at the next talks.
"I am announcing openly and clearly that Iran will not discuss a uranium enrichment halt in the next meeting in Istanbul with major powers," he told a news conference in Geneva.
Iranian President Mahmoud Ahmadinejad has again called for UN sanctions against his country to be lifted.
As well as Mr Jalili and Baroness Ashton, the Geneva talks involved senior officials from the five permanent members of the UN Security Council - the US, Russia, China, France and Britain - plus Germany.
'Cancel the nasty things'
Baroness Ashton said: "The countries I represent are united in seeking a resolution of the international community's concerns regarding Iran's nuclear programme, which is the central purpose of these talks. We recognise Iran's rights, but insist it fulfils its obligations."
She said of the next round of talks: "We plan to discuss practical ideas and ways of co-operating toward the resolution of our full concerns about the nuclear issue."
Mr Jalili said again that Tehran would "not accept any negotiations over Iran's nuclear rights", adding that the Istanbul talks would be "on the issue of co-operation".
Mr Ahmadinejad was quoted on Iranian state TV as saying: "If you come to the negotiations by cancelling all the nasty things and wrong decisions that you have adopted... lift resolutions, sanctions and some restrictions that you have created... then the talks will definitely be fruitful."
The BBC's James Reynolds in Geneva says officials described the prospect of another meeting as "a small positive" - but it is not yet clear if the emphasis should be on the word "positive" or the word "small".
He says it is clear that a huge level of mistrust remains between negotiators from Western countries and those from Iran.
Iran is under four sets of UN sanctions over its refusal to heed repeated UN Security Council ultimatums to suspend uranium enrichment.
Uranium can be enriched to provide nuclear fuel or be more highly enriched and used in nuclear weapons.
The latter is the fear of the US and its allies, although Iran insists its programme is for peaceful energy purposes.
The last Geneva talks, in October 2009, appeared to agree on a breakthrough deal under which Iran would export low-enriched uranium for processing abroad. However, the deal foundered after Iran introduced new conditions.
On Sunday, Iran raised Western concerns further by announcing it had mined and produced its first home-manufactured uranium yellowcake - the raw material for enrichment.