Egypt election: Hosni Mubarak's NDP sweeps second round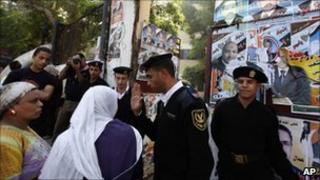 Egyptian President Hosni Mubarak's National Democratic Party (NDP) has won 83% of the seats in the parliamentary election, final results show.
The two main opposition parties - the Muslim Brotherhood and Wafd - boycotted Sunday's second-round vote, alleging widespread fraud in the first ballot.
Egyptian rights groups have called for the results to be annulled.
The US and the EU have also criticised the conduct of the poll, but Egyptian officials deny any state interference.
'One-party state'
The ruling NDP party secured 420 of parliament's 508 seats, more than 80%, compared with about 70% in the last parliament, figures released by the elections commission showed.
The Muslim Brotherhood and liberal Wafd party had refused to take part in Sunday's run-off after the NDP won 209 out of 211 seats in the first round of voting on 28 November.
The results left the Brotherhood, the most powerful opposition force in the outgoing parliament with 20% of the seats, without any MPs in the new assembly.
Hundreds of Brotherhood members were rounded up before the election as part of a clampdown on the group, which has vowed to challenge the results.
"These polls scandalised the ruling regime, while giving a boost to our legitimacy and popularity," Brotherhood spokesman Mohammed Morsi told the Associated Press news agency.
The group has called on President Mubarak to dissolve the new parliament and call fresh elections overseen by an independent monitor.
The call was echoed by a coalition of Egyptian rights groups, the Independent Coalition for Elections' Observation.
"The elections were full of widespread violations that brought Egypt at least 15 years back," it said in a statement.
Opposition newspapers said Egypt was turning into a one-party state with a servile parliament, which is tasked next year with electing a president.
Eighty-two-year-old Mr Mubarak, who has ruled Egypt for almost 30 years, has yet to clarify if he will stand.
Meanwhile, rights group Amnesty International said as many as eight people had died in election-related violence.
At least 17 young men were arrested in Mersa Matruh, a port city west of Alexandria, for protesting against the result of the election in their governorate, the state-run news agency Mena reported.