Iran considers release of stoning case reporters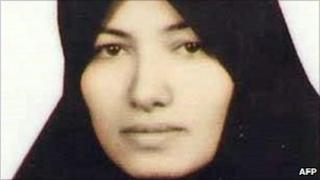 Iran says it is considering a request to temporarily release two German journalists detained in connection with a controversial stoning case.
A foreign ministry spokesman said there was a possibility the two might be allowed to reunite with their families for Christmas.
The pair were arrested in Tabriz, north-west Iran, in October.
They interviewed the son of Sakineh Mohammadi Ashtiani, a woman sentenced to death by stoning for adultery.
"There has been a request that these people meet their families, given that the Christian New Year is coming up. We are examining this request," Iranian foreign ministry spokesman Ramin Mehmanparast said.
Iran's judiciary says the two men, who have not been named, are still under investigation.
Judiciary spokesman Gholam Hossein Mohseni Ejehi has said they are not facing spying charges - contrary to a statement made in November by a senior official in Eastern Azerbaijan province, where the arrests were made.
But Iran says the two have confessed to working as reporters in the country without proper visas.
They travelled to Tabriz to interview the son of Sakineh Mohammadi Ashtiani - the 43-year-old Iranian woman whose sentence to be stoned for adultery sparked international condemnation.
The sentence has now been put on hold and is being reviewed by Iran's supreme court.