Opposing Iran's supreme leader is denial of God: cleric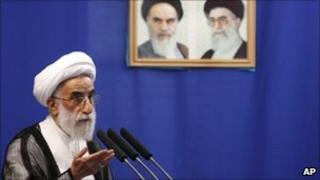 A senior Iranian cleric, Ayatollah Ahmad Jannati, has suggested that opposing the country's supreme leader amounts to a denial of God.
Correspondents say the unusually strong comments appear to be aimed at silencing internal dissent over the leadership of Ayatollah Ali Khamenei.
Ayatollah Khamenei came under unprecedented attack by protesters after the 2009 presidential poll.
More recently, he was shunned by senior Iranian clerics during a visit to Qom.
'God's commandment'
The latest comments were made by conservative cleric, Ayatollah Jannati, who heads Iran's powerful Guardian Council, which oversees the country's elections and the constitution.
Ayatollah Jannati is quoted by local media as telling a conference in the southern city of Shiraz that the principle of Velayat-e-Faqih - rule by Islamic clerics - is one of "God's commandments on Earth".
"Denying the guardianship of the supreme leader [Ayatollah Khamenei] is the same as denying God," he said.
Analysts say the unusually strong demand for public loyalty to Iran's supreme leader is an attempt by the influential cleric to liken political dissent to religious apostasy - a crime which carries heavy punishment under Iran's strict Islamic code.
Iran's clerical rulers faced their biggest challenge following the presidential elections that returned President Mahmoud Ahmadinejad to power in June 2009, in a vote the opposition said was rigged.
The mass protests by pro-reform activists prompted a fierce crackdown by the Iranian authorities, and the so-called opposition Green Movement has floundered in recent months.