Egypt vote in run-off election amid fraud row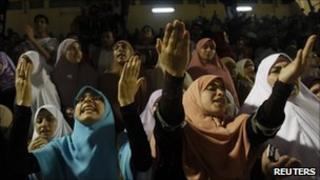 Egyptians have voted in a second round of parliamentary elections, a week after the first round was blighted by allegations of fraud.
The ruling NDP, which won almost all of the seats in the first round, is set for a crushing victory after the two main opposition blocs pulled out.
They accuse the NDP of fixing the vote - claims the NDP says are sour grapes.
The top two candidates in seats where no-one polled more than 50% of the vote are supposed to contest the run-off.
But the NDP, which won 209 of the 222 seats decided in the first round, is set to win all but a handful of the 287 seats up for grabs on Sunday.
In many seats, the run-off was contested between two NDP candidates.
As a result, there were few reports of the sort of confrontations between government and opposition seen in the first stage of the election, and also fewer protests of fraud, says the BBC Jon Leyne in Cairo.
Videos have been circulating on the internet appearing to show ballot boxes being stuffed, and gangs destroying ballot boxes, during the first round of voting.
The vote drew criticism from rights groups and the US.
Embarrassing margin
Our correspondent says the key question is not who is going to win the election but whether the result has any credibility.
The outcome will leave Egypt almost a one-party state, he says.
The margin of victory is an embarrassment for the NDP, he adds, which would have wanted a manageable parliamentary opposition to bolster its democratic credentials.
The Muslim Brotherhood, a banned Islamist group whose candidates stand as independents, said it was pulling out of the run-off after it failed to win a single seat in the first round.
In the previous parliament it had provided the main opposition with 88 MPs.
The other main opposition group, the liberal Wafd party, announced it too was pulling out after winning just two seats in the first round.
Many Egyptians have long since lost faith in the election process, our correspondent says.
The question now is what this result means for the presidential poll next year, in which President Mubarak will either stand for re-election, aged 83, or look to install a successor.