Saudi King Abdullah undergoes second back operation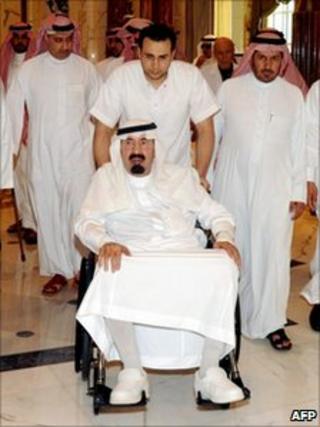 King Abdullah of Saudi Arabia has had a second, successful back operation in the US, the Saudi royal court says.
Earlier on Friday the court said the king would undergo surgery to repair vertebrae in his spine - the completion of another operation nine days ago.
The court says the king will now begin a second phase of physiotherapy.
The 86-year-old arrived in New York on 22 November seeking treatment for a herniated disc, complicated by an accumulation of blood around the spine.
The court has not said when the king will return to Saudi Arabia.
A Saudi official attending a Gulf security conference in Bahrain confirmed the second operation had been a success.
"He is well. He had an operation today and I hope he soon gets better," Prince Turki al-Faisal, a former intelligence chief, said.
Crown Prince Sultan, the next in line to the throne, is running Saudi Arabia in the 86-year-old king's absence.
The crown prince is also in his 80s and suffering his own health problems.