Israeli firefighters: Carmel blaze still out of control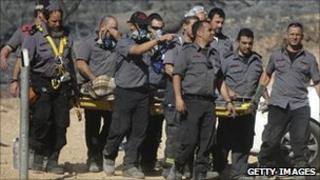 A deadly forest fire is spreading in northern Israel, despite the efforts of all available Israeli firefighters and a growing number of foreign crews.
The fire service told Israeli media on Saturday morning that emergency workers were "still far from attaining control over the fire".
Prime Minister Benjamin Netanyahu made an appeal for more international help on Friday evening.
At least 41 people have died in what is thought to be Israel's largest blaze.
As the forest fire entered its third day on Saturday, every available firemen in the country was helping to battle the flames in the Carmel Mountain region near the city of Haifa.
A spokesman for the fire service told Israel Radio that the crews were attempting to push the fore "from green areas to areas that were already burnt".
Specially equipped firefighting aircraft and crews from Cyprus, Greece, Turkey, Bulgaria, Jordan, Egypt and the UK are also assisting.
The US sent a team of experts, fire-fighting supplies and pledged to make additional aircraft available. The Palestinian Authority also sent firefighting units.
Plea for help
Mr Netanyahu called leaders of Germany, Norway, Finland, the Netherlands and Belgium on Friday evening to ask for more assistance, Israeli media reported.
Most of those killed in the blaze were prison guards travelling on a bus sent to help evacuate Damon prison after the fire started on Thursday. The bus was trapped in the inferno by a fallen tree in the Carmel mountains.
Israel Radio reported that a 16-year-old volunteer, who had helped to fight the blaze, was found dead early on Saturday.
More than 17,000 people, including prison inmates, have been evacuated from the area.
The flames have so far burnt more than 8,000 acres (3240 hectares) of what is mainly forest and brush land.
Mr Netanyahu described the blaze as an "unprecedented disaster".
Israeli media have criticised the government's lack of readiness.
The fire broke out about midday (1000 GMT) on Thursday. It is believed to have started in an illegal landfill site, investigators said, although it was not clear if it was accidental or deliberate.
A police spokesman told the Jerusalem Post that two arson suspects arrested on Friday were not linked to the main fire.
But he added that there had been a number of arson attacks in the region.
Israel has been experiencing a period of drought, suffering its driest November in 60 years.