Egypt Muslim Brotherhood 'quits election'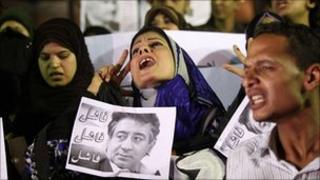 Egypt's main opposition movement the Muslim Brotherhood says it is withdrawing its candidates from the election run-off, reports say.
The Islamist movement, which is banned but runs candidates as independents, failed to win a single seat in Sunday's first round.
It claims the election was rigged in favour of President Hosni Mubarak's governing NDP party.
The liberal Wafd opposition party is also said to be quitting the election.
A party statement said the election was marred by forgery and violence, and described the process as "scandalous".
A Brotherhood source, quoted by Reuters news agency, said the movement's leader Mohammed Badie would confirm it was formally quitting the vote.
The NDP won nearly all the seats in the first round.
US 'dismay'
Wafd won two seats and was set to contest nine in the run-off. It had controlled 12 in the outgoing assembly and was expected to be the biggest opposition force in parliament.
Muslim Brotherhood candidates held 88 seats in the last assembly and were due to contend more than 20 in the next round.
The BBC's Jon Leyne in Cairo says the latest moves will be a blow to the Egyptian government, which has insisted the first round of voting was fair.
Washington has said it is "dismayed" by reports of election-day interference and intimidation by security forces. The US counts Egypt as a key ally.
The second round of voting is due to go ahead on Sunday.
Following the first round, Egyptian media carried images and testimonies of mass faked ballots and voters being intimidated at polling stations.
Protests by opposition supporters have since erupted across the country.
About 42 million voters were eligible to cast ballots but a coalition of human rights groups suggests turnout was only 10-15%.