Saudis trumpet al-Qaeda arrests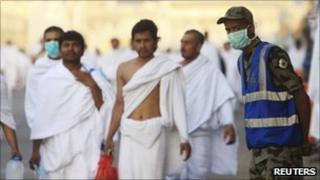 Saudi Arabian authorities have arrested 149 al-Qaeda suspects over the past eight months, officials have announced.
Most of the detainees were Saudis, but 25 were from other Arab, African and South Asian countries, the Interior Ministry said.
The ministry said agents had foiled plots to attack Saudi officials, civilians and journalists..
The Saudis have pursued aggressive anti-terror policies since 2003, when militants launched a series of attacks.
The Interior Ministry said the 149 suspects came from 19 separate militant cells.
"These cells have links with al-Qaeda that is disturbing security in Yemen, and with Somalia and organisations in Afghanistan," said ministry spokesman Mansour al-Turki.
A ministry statement said 2.24m riyal ($600,000; £380,000) had been confiscated from al-Qaeda during the Muslim pilgrimages of Hajj and Umra, where militants had been fundraising.
Analysts say Saudi Arabia has one of the most effective anti-terrorism agencies in the world.
It is believed that Saudi intelligence uncovered a recent al-Qaeda plot to blow up cargo planes.
Al-Qaeda's network was largely dismantled in the kingdom, but regrouped as Al-Qaeda in the Arabian Peninsula in Yemen last January.
The Saudis' anti-terrorism measures are often criticised by human rights groups, who say thousands of suspects are detained for long periods without charge or trial.