Two dead after oil tankers catch fire on Iraqi border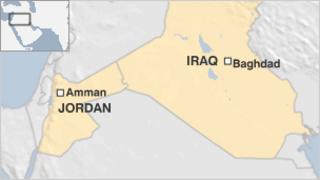 At least two people have been killed after some 20 oil tankers caught fire on the Iraqi-Jordanian border.
Twelve others were wounded in the blaze after a tanker exploded while unloading oil, and subsequently set 19 others ablaze, a Jordanian official said.
A preliminary investigation suggested the initial fire was "accidental due to an error during the unloading of the oil", she told the AFP news agency.
Jordan imports around 10,000 barrels of oil per day from its neighbour.
Heavy smoke was seen billowing from the scene, while at least 10 drivers were taken to a medical centre in the nearby border town of Ruwaishid, the Reuters news agency reported.
"A tanker truck that unloaded the oil it was carrying from Iraq in the special zone... caught fire due to an explosion, causing a fire that affected 19 other trucks," the Jordanian official told AFP.
"The driver of the tanker truck, an Iraqi, is in the hands of the police and is in a state of shock," she added.
The official said several others had been reported missing.