Lebanon tense as fingers point over Hariri killing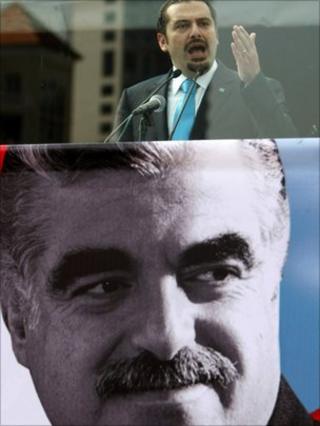 Tensions are rising sharply in Lebanon, amid indications that the international Special Tribunal set up to prosecute the killers of former Prime Minister Rafik Hariri may soon issue indictments of members of the militant Shia movement Hezbollah in connection with the case.
The issue is dominating the Lebanese political arena, and the country's national unity cabinet, which includes Hezbollah and its allies, is currently unable to meet because of it.
There are widespread fears that indictment of Hezbollah members could spark clashes between the country's Shia and Sunni communities.
Hezbollah has angrily rejected any suggestion of involvement in the Hariri assassination in February 2005, and wants the government to suspend its share of funding for the tribunal.
Its leader, Sayyid Hassan Nasrallah, has warned of dire consequences if the court goes ahead and indicts some of his followers.
But Mr Hariri's son Saad, now himself prime minister and political chief of the Lebanese Sunnis, is committed to the tribunal, which he sees as the way to find the truth about who killed his father.
Repercussions
Tensions have been steadily mounting over recent months as the expected indictments grew imminent, but the situation has been contained by an entente between Saudi Arabia and Syria, who exercise great influence respectively among Lebanon's Sunnis and Shia.
The Iranian ambassador in Beirut has also been co-ordinating with his Saudi and Syrian counterparts to help keep the peace.
Lebanese politicians had been hoping that Saudi-Syrian mediation at top level would very soon produce a formula that could be agreed on by the cabinet in Beirut to deal with the repercussions of the expected indictments.
But now there are fears that the Saudi role may fall victim to developments inside the kingdom.
The monarch, King Abdullah bin Abdul Aziz, was flown to the US on Tuesday for medical treatment.
He was personally overseeing his country's rapprochement with Damascus and their joint sponsorship of peace efforts in Lebanon.
The king has temporarily assigned his powers to his half-brother, Crown Prince Sultan, who is himself ailing.
Lebanese politicians believe that Prince Sultan and other prominent members of his Sudeiri wing of the ruling family are much less keen on cultivating good relations with Syria.
On top of that, the situation has been further complicated by a documentary put out this week by the Canadian broadcaster CBC under the title Getting Away With Murder.
CBC said its months-long investigation was based on interviews with sources inside the UN inquiry and on documents leaked from the tribunal.
It said that evidence gathered by the Lebanese police and the UN "points overwhelmingly to the fact that the assassins were from Hezbollah".
'Explosive'
To back that allegation, it contained detailed diagrams showing how investigators traced interlinking networks of mobile phones which they believed led from the vicinity of the massive explosion which killed Rafik Hariri and 22 others, ultimately to Hezbollah's communications centre under a hospital in Beirut's southern suburbs.
The CBC documentary also produced the startling allegation that suspicion had fallen on Mr Hariri's head of protocol at the time, Col Wissam al-Hassan, who currently commands the intelligence section of the Lebanese police and is regarded as a staunch Hariri loyalist.
The CBC film had a bombshell effect in Lebanon, where it dominated news bulletins and front pages. It also prompted comments from key players, including Prime Minister Hariri and the international tribunal prosecutor.
Israeli Prime Minister Benjamin Netanyahu even held a meeting of his inner cabinet to discuss the possibility that Hezbollah might stage a coup in Lebanon should some of its adherents be indicted.
Ironically, the CBC documentary, explosive as it seemed to be, might actually have the effect of reducing the impact of eventual indictments. For one thing, by the time indictments actually materialise, they might be seen as old hat.
The evidence produced by CBC also relied very heavily on the detailed analysis of mobile phone calls - something which is circumstantial rather than positive proof.
Over the past year, a number of Lebanese telecommunications employees have been arrested on charges of working for Israeli intelligence.
On Tuesday, shortly after the CBC documentary was aired, the Lebanese communications minister Sherbel Nahhas (a Christian allied to Hezbollah) gave a three-hour news conference at which he and other officials and experts showed detailed technical evidence which they said indicated Israel had complete penetration of Lebanese communications, to the extent of being able to plant parasite lines within existing lines.
Hassan Fadlallah, a Hezbollah MP who heads parliament's communications committee, said three Hezbollah operatives had been detained as suspected Israeli spies until it was realised their mobile phones had been infiltrated.
All of this may make it easier for Hezbollah to shrug off possible indictments as Israeli-manipulated falsehoods.
The allegation that Col Wissam al-Hassan fell under suspicion has further muddied the waters.
As Rafik Hariri's chief of protocol, Col Hassan would normally have been in the convoy that was hit by the blast that killed Mr Hariri and his entourage. But he had taken the day off to sit a university exam - an alibi that CBC's sources said was doubtful, and did not stand up under scrutiny.
But Saad Hariri, questioned by journalists about the allegations, said he had always had full confidence in Col Hassan, and still did.
One of the prime minister's senior aides went as far as to suggest that both Hezbollah and Col Hassan should sue CBC for libel.
Another prominent Hariri supporter, MP Iqab Saqr, said the CBC report should be ignored because it contained "poisoned information, aimed at disturbing the desired settlement".
He said everybody was concerned "not to target Hezbollah politically, while Hezbollah should stop the political assassination of Lebanese".
With both sides apparently impugning the integrity of the court - or at least the CBC leaks - it almost looked as though there were some common ground between them.
The tribunal itself - or its prosecutor, Canadian judge Daniel Bellemare - took the unusual step of responding to the CBC documentary, saying he was "extremely disappointed" by it and was assessing its impact on the investigation.
This was widely seen in Beirut as implicit confirmation that the CBC had indeed sourced its report on genuine tribunal documents and information.
The decision on whether and when to issue draft indictments lies in the hands of prosecutor Bellemare, and it is not clear whether the first step - referring them to the pre-trial judge for confirmation - would be made public.
Although nothing has been announced, it had been expected that the indictments would be issued around the middle of December, and the judicial evaluation process could take up to two more months before decisions are made on whether to issue arrest warrants.
'Vicious circle'
Despite the dense dust-clouds already stirred in Lebanon by the tribunal and reactions to it, there are fears that the indictments, if and when they come, could still cause real trouble.
"Nobody knows what is going to happen, but the Shia in general, and Hezbollah in particular, can't risk being accused, and it is bound to cause tension with the Sunnis," said the Druze leader, Walid Jumblatt, who recently detached himself from alliance with Saad Hariri, improved relations with Hezbollah and is trying to stay neutral.
"If Hezbollah is indicted, that will affect its image in the Muslim world as the heroic resistance against Israel," he told the BBC.
Mr Jumblatt accused the US and other Western powers of cynically using the tribunal to put pressure on Syria, Iran and others, and of trying to head off a compromise understanding among the Lebanese leaders.
"Whoever technically killed Rafik Hariri, those really responsible were [French President Jacques] Chirac and [US President George W] Bush, who forced him to accept 1559," he said, referring to the UN resolution passed in late 2004, just a few months before Mr Hariri's murder.
"It had three clauses in it which amounted to death sentences - the demand for Syrian troops to leave Lebanon, and for Hezbollah and the Palestinians to be disarmed," Mr Jumblatt said.
"More important than finding out who killed Hariri, the most important thing now is to get out of this vicious circle which brings more tension every day, how to break this crisis between Sunnis and Shia."
While the Saudis and Syrians are looked to as the most influential outside powers potentially able to foster an understanding and prevent the Lebanese factions taking to the streets again, others are also in a position to try to help.
The Turkish Prime Minister, Recep Tayyip Erdogan, who had a hand in the Saudi-Syrian rapprochement, is currently on a two-day visit to Lebanon.
And on Saturday, Prime Minister Hariri visits Tehran, his first such trip to the country that helped establish and still vitally supports Hezbollah.