Egypt's Muslim Brotherhood campaigns through clampdown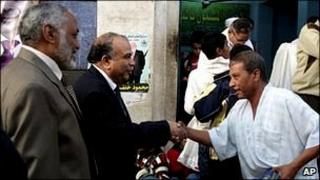 The head of the Muslim Brotherhood's parliamentary bloc, Saad al-Katatni, says thugs assaulted him while he was out campaigning in his Minya constituency in Upper Egypt this week.
Others in the Islamist group have been blocked from registering as candidates, seen their posters torn down and got caught up in clashes with police in the run-up to Sunday's election.
The Muslim Brotherhood reports that more than 1,200 members and supporters have been arrested.
However Mr Katatni tries to remain optimistic about the likely outcome of the poll, pointing to the record of Brotherhood MPs as an opposition force.
"We expect a big win despite the fact there are many indications that there will be tampering with votes," he declares. "The Egyptian voter supports the person who works for him."
"We've had a lot of successes in parliament, especially drawing attention to the rights of the poor to better wages and work opportunities. We have prioritised improvements to services like health and education."
Reforms unravel
Before the last legislative election five years ago there was increased agitation for democratic change in Egypt and Western pressure on the government to liberalise politics.
Muslim Brotherhood candidates, who run as independents because the movement is officially banned, were given more freedom to participate in the vote.
They went on to take 88 parliamentary seats - about half of those they contested and nearly 20% of the total - becoming the biggest opposition bloc in Egypt's modern history.
Most analysts believe they will not be allowed to repeat that performance. Some predict they could lose more than three-quarters of their MPs.
"I expect the movement to suffer a big loss," says Amr Hamzawy, head of research at the Carnegie Endowment for International Peace in the Middle East. "It's the regime's clear intent not to let them win as they did in 2005."
The ruling National Democratic Party (NDP) has taken a series of steps that effectively tighten its firm grip on power.
"We no longer have complete judicial supervision of elections," Mr Hamzawy notes. "A judge really protects not only the votes but also the ability of the voters to get into the polling station.
"The government also used constitutional amendments in 2007 to limit the scope of representation of the Muslim Brotherhood in politics. It instituted a ban on political parties with a religious frame of reference."
Unequal opportunities
Last month, Brotherhood leaders announced the group would contest 30% of seats, fielding 130 candidates for 508 seats.
The authorities say there has been a clampdown on those using the well-known phrase, "Islam is the solution" in their campaigns, because of a new electoral ban on the use of religious slogans.
They also say that public rallies like those confronted by police in six governorates last weekend are prohibited under Egypt's controversial emergency law.
Yet advocacy groups highlight how independent candidates are not being allowed the same rights as those running for the ruling NDP.
"Our conclusion is that this is not a free and fair environment where all candidates enjoy equal opportunities," comments Heba Morayef, the Cairo-based researcher for Human Rights Watch.
"People have a right to vote, to elect their representatives and to participate in public life and present themselves as candidates."
Internal debate
There were divisions particularly between conservatives and reformists within Muslim Brotherhood ranks about whether to take part in this year's elections.
The group has been part of a campaign headed by the former head of the UN atomic watchdog, Mohamed ElBaradei, and his National Association for Change, demanding constitutional reforms.
Mr ElBaradei called for a boycott of the poll to undermine its credibility and was evidently disappointed the Brotherhood did not join it.
"Those who decided to participate in elections ought to rethink their decision," he recently wrote on his Twitter account, describing the entire process as "fake".
Muslim Brotherhood leaders maintain it is important to persevere with campaigning to illustrate the unfairness of government tactics and try to keep a voice in parliament.
Experts expect the internal debate about their strategy to continue after election day and warn it could weaken the organisation.
However ultimately it is unlikely to dent the Brothers' extensive grassroots network of support. This has been strengthened by their provision of charitable services and a resurgence in religious feeling in recent years.
For its part, the government is likely to answer its critics by continuing to stress what it sees as the dangers in the Brotherhood's over-arching political vision of a state governed on Islamic principles.