Iran: Pollution causes shutdown in Tehran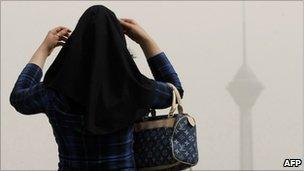 The authorities in Iran say schools, offices and factories will be closed in the capital, Tehran, on Wednesday because of high air-pollution levels.
State television said the government had decided to call a 24-hour public holiday.
It said this was because of the "polluted and unhealthy" atmospheric conditions.
Increases in Tehran's population, its geographical location and car usage are all blamed for the city's pollution.
The government said pollution levels rose earlier this week and are expected to peak on Wednesday.
The decision means the Iranian weekend will be extended by an extra two days in Tehran, as Thursday is a religious holiday for the festival of Eid. Friday is a weekend day in Iran.
Iran occasionally announces public holidays and traffic restrictions in the capital because of air pollution and sandstorms.
Critics say such holidays cost about $130m (£82m; 97m euros) a day, because of the loss of business, according to the Associated Press news agency.
Tehran's population has greatly increased in recent decades, while the high number of cars on the roads, particularly older models, is often blamed for exacerbating pollution levels.
The geographical location of Tehran, wedged between mountains, also means if there is no wind or rain the dirty air gets trapped.
Iranian health experts say thousands of deaths a year are caused by heart attacks and respiratory illnesses brought on by smog.