Saudi King Abdullah to go to US for medical treatment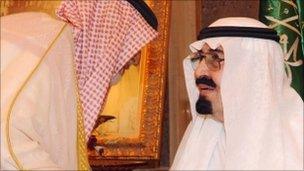 Saudi Arabia's ailing 86-year-old King Abdullah is to go to the US for treatment for a back problem, Saudi officials have said.
He has a herniated disc worsened by an accumulation of blood around the spine and is to leave for the US on Monday.
Crown Prince Sultan, who is himself said to be unwell, is to return from an extended overseas holiday to take over.
Saudi Arabia has more than 25% of the world's known oil reserves and is a key ally of the US in the Middle East.
For years, power in Saudi Arabia has been passed between the many sons of the country's founder, King Abdul-Aziz, who died in 1953.
The Muslim kingdom has no elected parliament or political parties.
The issue of handing power to a younger generation has become more pressing as health issues affect the brothers and half-brothers, says the BBC's Middle East correspondent Jon Leyne.
Last week, King Abdullah handed over control of the country's National Guard to his son Mitab.
King Abdullah came to power in 2005 after the death of his half-brother King Fahd. He had already been de-facto ruler since King Fahd had a stroke in the 1990s.