Iran nuclear plan 'must be peaceful' - Russia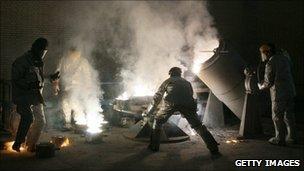 Russian President Dmitry Medvedev has stressed the importance of Iran having a peaceful nuclear programme, following a meeting with his Iranian counterpart, Mahmoud Ahmadinejad.
This is the first meeting between the two leaders since a breakdown in ties.
Earlier this year, Moscow backed a series of UN sanctions against Iran and later dropped plans to supply the Iranians with surface-to-air missiles.
Mr Ahmadinejad recently accused Russia of selling out to Iran's enemies.
Thursday's meeting was held on the sidelines of a regional summit in Azerbaijan.
Mr Medvedev told Mr Ahmadinejad that nations stood ready to support Iran as long as it kept its ambitions in check, the Kremlin said.
"The president [Medvedev] spoke of the importance of the continuation of a peaceful Iranian nuclear programme," Russian news agencies quoted Mr Medvedev's top foreign policy aide Sergei Prikhodko as saying.
"An example [of such co-operation] came at Bushehr" where Russia recently launched Iran's first nuclear power plant, Mr Prikhodko added.
Earlier this year, Russia voted in favour of sanctions on Tehran for failing to halt its nuclear enrichment programme.
But Russian scientists recently completed Iran's Bushehr nuclear plant, which is set to produce electricity from 2011, and are providing the fuel.
They will also be taking away the spent fuel which could potentially be used to make a plutonium-based nuclear bomb.
Thursday's meeting had been billed as a last chance for Tehran to step out of its growing international isolation.
Iran's separate uranium enrichment programme has alarmed Western nations, who distrust Iran's claims it is solely for peaceful purposes.