Iraq power-sharing talks stall on key issues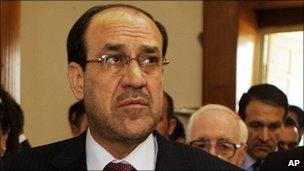 A second round of top-level talks on ending the Iraqi political crisis has ended in Baghdad without major results.
The chairman of the meeting said there had been discussion and agreement on some issues, including commitment to the constitution.
But the issue of who should be prime minister, president and speaker of parliament had not been discussed. More meetings are expected on Wednesday.
Iraq has set a world record for the longest time to form a new government.
Nouri Maliki's State of Law bloc won 89 seats in March's election, two fewer than Iyad Allawi's al-Iraqiyya movement.
As neither bloc secured an outright majority, there has been intense and so far fruitless political negotiations to try to cobble together enough support to head a new government.
The leaders of the main political blocs had met publicly for the first time since March on Monday in the northern city of Irbil.
The talks resumed in Baghdad on Tuesday but were not attended by Mr Allawi nor by Sunni Vice-President Tareq al-Hashemi.
Another issue still to be resolved is whether parliament will meet on Thursday as previously announced. Since March, parliament has met for just 20 minutes.
Correspondents say one deal discussed would envisage Mr Maliki staying on as prime minister and Jalal Talabani, who is Kurdish, retaining the presidency.
Mr Allawi's coalition would be given the speakership of parliament and also the presidency of a new national council for higher policy.
However, there has been no further news on whether such a deal could be hammered out.