Israel Knesset suspends lawmaker Tzahi Hanegbi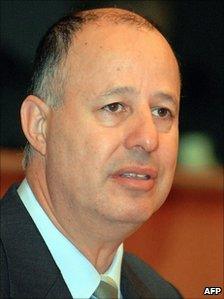 Senior Israeli lawmaker Tzahi Hanegbi has been suspended from parliament after he was found guilty of perjury.
Hanegbi was convicted in July of lying at his four-year-long trial over alleged political appointments during his time as environment minister.
He was cleared of those more serious charges, but a court ruled that perjury amounted to "moral turpitude" - conduct against public morals.
Despite the Jerusalem court judgement Hanegbi can run in future elections.
A member of the opposition Kadima party, Hanegbi was head of the foreign affairs and defence committee at Israel's parliament, the Knesset.
Although a senior opposition figure, he is widely regarded as being close to Israeli Prime Minister Benjamin Netanyahu and someone who is strongly in favour of Kadima joining the governing coalition.
Israeli press reports said he would likely be replaced by Georgian-born journalist Nino Abesadze, which could jeopardise any coalition deal.
The corruption charges against Hanegbi relate to his term as environment minister in the former Likud cabinet in 2002.
He was cleared of allegations that he appointed fellow Likud members and their relatives to government-related positions. He has always denied any wrongdoing.
In Tuesday's ruling, the Jerusalem Magistrates Court also ordered Hanegbi to pay a fine of 10,000 shekels ($2,750; £1,700).
But it did not hand him a suspended sentence, which would have barred him from serving as a minister for the next seven years.
Related Internet Links
The BBC is not responsible for the content of external sites.