US lists Iran group Jundullah as terrorists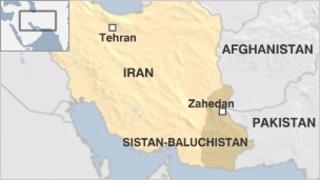 The US has announced it is designating the Iranian militant group Jundullah as a terrorist organisation.
The state department said Jundullah had killed and maimed scores of Iranian civilians and government officials since its inception in 2003.
The group says it wants Iran to respect the human rights, culture and faith of the ethnic Baluch people.
It said it was behind a mosque bombing in the city of Zahedan in July that killed 28 people.
Jundullah (Soldiers of God) operates primarily in Sistan-Baluchistan province.
'Horrific attack'
The State Department terrorist designation said: "Jundallah uses a variety of terrorist tactics, including suicide bombings, ambushes, kidnappings and targeted assassinations."
The designation as terrorists means a ban on anyone "knowingly providing material support or resources to Jundullah".
Jundullah said it had carried out the mosque bombing in the south-eastern city of Zahedan - which targeted members of the elite Revolutionary Guards Corps - in revenge for the hanging of its leader Abdolmalek Rigi in June.
At the time US Secretary of State Hillary Clinton condemned the "horrific attack" and called for the perpetrators to be held accountable.
Zahedan is the capital city of Sistan-Baluchistan province, which borders Afghanistan and Pakistan and is prone to unrest.
Correspondents say there is resentment in the mainly Sunni area against perceived discrimination by Iran's Shia establishment.