Gaza businesses boxed in by Israeli export ban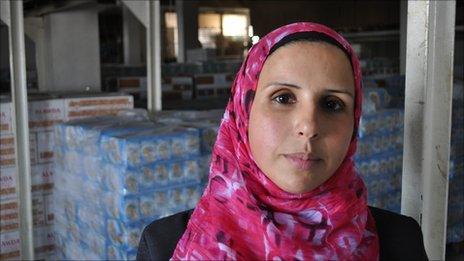 Israel may have eased its blockade of the Gaza Strip earlier this year, but a continuing ban on exports from the territory is causing misery for many Palestinians, the BBC's Jon Donnison reports from Gaza.
Manal Hassan is a little short of breath as she walks me though the gloomy deserted production lines at the Al Awda biscuit factory in central Gaza.
She has a lot on her plate at the moment. She is eight and half months pregnant, and the business she manages looks on the verge of going under.
"It's very sad," Ms Hassan says, looking close to tears. "You can't imagine how it is when the factory is working. It's completely alive and full of people. Now it is like death."
Al Awda used to be one of the biggest, busiest factories in Gaza, employing more than 300 people. They make biscuits, ice cream and crisps. Or they used to.
Since Israel eased its blockade of the Gaza Strip in June they have had to shut down virtually all production. The factory now operates only a few days a month, as and when there is demand.
"Now the market is flooded with cheap imported biscuits from Israel. But we are still not allowed to export. So we lose on both counts."
So ironically, the easing of the blockade has actually made things worse for Manal Hassan. They can now get access to the imported raw materials they need to make their biscuits, but there is no market for them.
The store rooms at Al Awda are stacked full of a surplus of biscuits.
Before Israel tightened its blockade of Gaza in 2007, Al Awda used to export about 60% of its products, mostly to the West Bank.
But for the past three and a half years virtually all exports from Gaza have been banned. Only flowers and strawberries are sometimes exported during the season.
Last season, 17 million carnations were exported via Israel, through a deal negotiated with the Dutch government. That compared with about 40 million flowers in the years before the blockade was imposed.
The export ban has had a devastating impact on Gaza's economy. Unemployment is running at about 40%, and the United Nations estimates 80% of people are reliant on food aid.
"Gaza used to export around $300m (£186m) worth of goods a year," says economist Omar Shabban, from Palthink - a think tank based in the strip.
"We used to export textiles. Not only to Israel, but also to Marks and Spencer in Britain. We used to export furniture. We used to export hundreds of things."
Mr Shabban says if the ban on exports is not lifted, poverty will only get worse - which he says encourages extremism and radicalisation.
A few entrepreneurs in Gaza have even started exporting goods illegally through smuggling tunnels from Egypt.
The tunnelling industry based around the border town of Rafah has been badly hit since Israel opened up the borders to the legal importation of most food and consumer goods.
Many of the thousands of people who used to be employed in the tunnel business are now out of work.
Sitting by the road just a few hundred yards from the border is one such man.
Abu Mohammed used to be a tunnel digger. Now he does not get much work, but has turned to occasionally exporting goods to Egypt.
"We take out scrap metal that people have collected here. Copper and aluminium. But only in small quantities."
The illegal trade could in theory increase if Israel maintains its ban on most exports. For now, Israel says it is not ready to lift the ban because of security risks.
"People need to ask why the blockade is in place. Why are there restrictions on imports and exports? It's because Gaza is controlled by a terror movement," says Yigal Palmor, an Israeli foreign ministry spokesman.
Israel tightened its economic blockade of Gaza in 2007 after the Islamist movement Hamas took power.
It said it was necessary to stop weapons being smuggled to militants in Gaza and to put pressure on Hamas.
Mr Palmor says Israel is looking at increasing exports in the near future, but says there are still concerns about security risks.
He cannot give a timescale or specify which products will be allowed out and in what quantity.
The Dutch government says it is hoping to get approval this year to export vegetables including cherry tomatoes and sweet peppers from Gaza, as well as flowers and strawberries. But as of yet, that has not been confirmed by Israel.
Back in Gaza at the Al Awda biscuit factory, Manal Hassan laughs at the idea of a "Chocolate Crispy" biscuit posing a security risk.
"Israel has all the technology it needs to check our biscuits before they leave," she says.
Ms Hassan says she and her employees face a bleak future if the export ban is not lifted.
Walking between the boxes of biscuits slowly going stale, it feels - at least here - as if things are getting worse, not better.
Israel eased its economic blockade almost five months ago. But most people in Gaza will say that so far, few things have got any easier.