Iran nuclear talks: Threats, rhetoric, shadow-boxing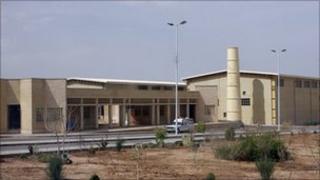 After a break of more than a year, Iran and the West are edging closer to a new round of nuclear talks.
Iran has formally announced it is willing to engage in talks sometime after 10 November.
The EU envoy Lady Ashton, who will lead any talks, has suggested 15 November.
However, Tehran is unlikely to accept that date, as it is the day before the festival of Eid Al Adha, one of the most important in the Muslim calendar.
Returning to the negotiating table has been a long slow process, even after both sides declared their willingness to resume talks.
Western officials have said that Iran has been slow to respond to its messages, even while publicly declaring its desire to join new talks.
Negotiating positions
There is a suspicion that Iran is playing for time, while it continues to build up its stocks of enriched uranium.
That would enable Iran to come closer to the ability to build a bomb, although Tehran denies that is the intention.
At the very least, the Iranian government may believe it strengthens their negotiating position.
For their part, Western officials also seem to believe time is on their side, hoping that ever tighter sanctions are increasing the cost to Iran of its nuclear programme.
Even when talks do finally resume, and that may not be until December, no-one is holding out any great prospect of success.
Penalty for delay
The New York Times reported from Washington earlier this week that the Western negotiating group is close to agreeing a tough new set of proposals to put to Tehran.
Under the new offer, Iran would once again be invited to export a large part of its enriched uranium, in return for a new batch of fuel for the Tehran research reactor, which manufactures medical isotopes.
But this time the west would be calling on Iran to export a much larger quantity - 4,400lb of low enriched uranium.
The West would also demand that Iran ceases enriching uranium at the higher level of 20%, which Iran says is part of its own attempt to supply the Tehran reactor.
Since the West is already demanding the end of all uranium enrichment by Tehran, that particular condition is in danger of sending a mixed signal.
But the overall message to Iran is clear: Delay from Tehran only increases the price of a deal.
As the White House spokesman Robert Gibbs explained on Thursday: "We have to convince them that life will get worse, not better, if they don't begin to move."
Demand or rhetoric?
From the Iranian side there have also been plenty of mixed messages.
In recent months, President Ahmadinejad and other officials have called on the negotiating group to issue a statement about Israel's nuclear deterrent.
If that is a firm demand, it would be a deal-breaker. But the western belief is that this is more likely just rhetoric designed for domestic consumption.
Iran has continued to give no indication that it is prepared to compromise on any fundamental aspect of its programme.
Officials repeat their willingness to carry out a fuel swap. But after the initial deal was agreed in Geneva last year, it proved elusive.
The belief in the West was that Mr Ahmadinejad was not able to deliver in the face of opposition from hardliners, not least, the supreme leader, Ayatollah Khamenei.
So any new round of talks could be set up to fail - a round of shadow-boxing.
Even if that is the case, both sides may feel they can benefit.
Iran can spin the process out, delaying any new sanctions and increasing its nuclear capability.
Washington may feel that it has to go through the motions, as a way of consolidating international support for its position as it attempts to tighten the noose on the Tehran government.