Iran agrees to resume nuclear talks in November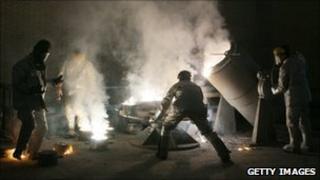 Iran says it is prepared to hold talks on its disputed nuclear programme in November, the EU's foreign policy chief Baroness Ashton has said.
Tehran's acceptance came one day after the US confirmed it was working on a new fuel swap deal for Iran.
Under the old offer rejected by Tehran, Iran was to ship out 1,200kg (2,650lb) of uranium to be enriched. Reports say this could be raised to 2,000kg.
Western powers fear Iran is building capacity to produce a nuclear bomb.
Iran denies the charges, saying that it is pursuing a civilian atomic programme designed to meet its energy needs.
Revised offer
Speaking at a summit of EU leaders in Brussels, Lady Ashton said she had received a letter from Iran's chief nuclear negotiator, Saeed Jalili, agreeing to meet "in a place and on a date convenient to both sides" after 10 November.
Lady Ashton - who represents world powers in the nuclear dialogue with Iran - had earlier invited Mr Jalili to hold talks in Vienna from 15-17 November. She called his reply "a very significant move".
Meanwhile, US State Department spokesman PJ Crowley confirmed a New York Times report that Washington and its European allies were close to agreeing a tougher proposal on a nuclear fuel swap offer for Iran.
"We expect and hope that we would be able to offer a revised [fuel swap] proposal to Iran should there be talks in the near future, but we are still working on the specific details," Mr Crowley said in Washington on Thursday.
Under the old offer rejected by Tehran, Iran was to ship out 1,200kg (2,650lb) of uranium to be enriched, easing Western fears about Iran's uranium enrichment capability. In return, it would get higher-grade fuel for a medical research reactor.
Western diplomats say the new deal will take into account the increase in Iran's uranium stockpile and level of enrichment since then.
US officials did not comment on details of the offer, but the Times report suggested that Iran would be asked to ship out close to 2,000kg of uranium.
Iran would also be required to stop all production of nuclear fuel it is enriching to 20%, a key step towards weapons-grade levels, and agree to negotiate on the future of its nuclear programme, the Times said.
The revised offer is partly designed to show that the Obama administration is fulfilling its promise to keep negotiating even as it ups the pressure on Tehran, says the BBC's Kim Ghattas in Washington.
But Iran's reaction may also help to assess whether the fourth round of UN sanctions imposed this summer are having an impact and pushing Iran's leadership to be more flexible, our correspondent says.