Clear skies ahead for regional rivals Egypt and Iran?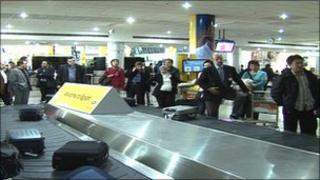 There is speculation that two long-time rivals in the Middle East, Egypt and Iran, could be moving closer to restoring full diplomatic ties after the countries' recent decision to resume direct flights. The BBC's Persian Service correspondent, Mohammad Manzarpour, has been investigating.
Planes from more than 70 airlines come and go from Cairo International Airport - heading mainly to Europe, Africa and other parts of the Middle East.
It is a major regional hub which served over 14 million passengers last year.
Yet since Iran's 1979 Islamic revolution, no Iranian aircraft has landed at the airport. That may now be about to change.
This month a tentative deal to resume flights between Tehran and Cairo was signed between the Egyptian and Iranian aviation authorities.
The Iranian Vice-President, Hamid Baqaei, who oversaw the signing of the memorandum of understanding, described the deal as a diplomatic triumph for the Islamic Republic.
It was, he said, "one of the most valuable economic agreements that have been signed between Iran and Egypt over the past 30 years".
The Egyptians are more reticent.
"This is purely a technical agreement between two states," says president of the Egyptian Civil Aviation Authority, Sameh El-Hefny.
He says the deal is subject to revision and approval by the government's foreign affairs committee or parliament, but admits there is financial potential.
"Maybe the opportunity would attract Middle East carriers to transfer passengers or goods from Iran to Cairo and to the rest of the world," he suggests.
US disappointment
Washington - which has passed tough unilateral sanctions against international companies doing business with Iran because of concerns about its nuclear programme - was quick to express disappointment with its strategic regional ally over the negotiations.
It urged Cairo not to make any deal with the Islamic Republic.
Mr El-Hefny maintains this is an over-reaction: "The story has been blown out of proportion, it has been taken out of the technical context and forged into a political context which I think, is a complete misunderstanding."
Any deal between Iran and Egypt does have political significance however.
Tensions rose between the two regional powers three decades ago when Egypt gave asylum to the deposed Iranian shah. Iran also opposed Egypt's recognition of Israel.
Since then, they have maintained only interest sections, rather than embassies, in each other's capitals.
And more recently, the two countries have found themselves on opposite sides of a power struggle in the Middle East, where Iran and the US are vying for influence.
America's allies include Egypt, Israel and Saudi Arabia, while Iran is close to Syria and Lebanon's Shia Muslim group, Hezbollah.
Rivalries aside?
Mr Baqaei has expressed hope the flight agreement will be the first step towards easing visa restrictions for Iranians wanting to visit Egypt.
However experts maintain change will be hard to achieve.
"Many powers in the region would not like Egyptian-Iranian reconciliation," says Mustafa El-Labbad, director of Al-Sharq Centre for Regional and Strategic Studies in Cairo.
"Egypt has to weigh its alliance with the USA internationally and its alliance with Saudi Arabia regionally, so Egypt would have to pay a heavy price on the international stage [for any alliance with Iran]."
On the other hand, he believes that the Iranian government benefits from the flight deal which looks like a conciliatory gesture.
"I think such a move would be beneficial for the faction of current President [Mahmoud] Ahmadinejad, who is trying to show other factions that he can achieve success regionally," he says.
"He is now going to tell them: 'Look my politics and my diplomacy can advance Iranian influence and can open doors, even to the Egyptians.'"
In the past, Egypt and Iran - the two most populated countries in the region with distinct cultures and ancient civilisations - have been great allies.
Relations peaked during the reign of Mohammad Reza Shah Pahlavi during his short-lived marriage to the daughter of Egypt's King Fuad.
Some experts believe that Cairo could be opening up to the possibility of different alliances in future.
Yet for now, they advise ordinary Iranians who dream of travelling to Giza to tour the pyramids not to hold their breath.