Wikileaks: Iraq war logs increase pressure for openness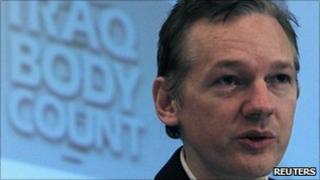 The leaking of new documents from the Iraq war is likely to increase pressure on governments to release details of civilian casualties in future conflicts.
It is clear from these military logs that raw data about casualties in Iraq is there. The claim by the former US commander in Iraq, Gen Tommy Franks, that "we don't do body counts" is therefore demonstrably incorrect at a local level.
For example, this is an extract from a report I have taken at random from the Wikileaks list of just one relatively minor incident in Baghdad in 2004, in which the driver of a moped was shot dead.
"SUSPICIOUS IZ [i.e. in the International or Green Zone] MALE ... IGNORED WARNINGS TO HALT. THE IZ (DRIVING A MOPED) HAD FOLLOWED A ___ PATROL BACK TO THE FOB [Forward Operating Base]... GUARDS YELLED FOR HIM TO HALT, AND AN ___ SHOUTED AT HIM TO HALT IN ___. HE AGAIN IGNORED THE WARNINGS. GUARDS FIRED A WARNING SHOT BUT THE IZ RODE UP THE ___ TO THE TOP, THEN PROCEEDED TO DRIVE DOWN THE ___, AND WAS ENGAGED BY 2X GUARDS WOUNDING HIM IN THE CHEST. THEN TREATED HIM HOWEVER HE HAD DIED OF WOUNDS."
That is a body count. In this case, the name of the dead man was not given. Names are given in some other reports.
The unofficial group that has monitored the Iraqi death toll, the Iraq Body Count (IBC), says that the "War Logs" contain "54,910 records compiled by the United States military whose numerical fields register 109,032 violent deaths between January 2004 and December 2009.
"These casualty records contain four categories of casualties: 'Civilian' (66,081 deaths), Host Nation' (15,196 deaths),'Enemy' (23,984 deaths), and 'Friendly' (3,771 deaths)."
The number of civilian deaths so recorded is actually lower than the figure previously used by the IBC, which was between about 97,000 and 106,000. This, it says, is because the logs missed many deaths, in Falluja, for example, where the US carried out two major urban assaults.
Having sampled the logs, the IBC concludes: "On the basis of these analyses IBC is able to conclude that some 15,000 hitherto unrecorded civilian deaths will be added to the public record from the Iraq War Logs, and that these, together with new information on combatant deaths contained in the logs, will bring the recorded death toll since March 2003 to over 150,000, roughly 80% of whom were civilians."
80% of 150,000 is 120,000. So 120,000 might well become the standard accepted figure for civilian deaths in the Iraq invasion and its aftermath, unless an examination of all the new logs shows otherwise.
Call for change
Some of course will stick to alternative figures, which are larger. The highest of these came in a report in 2006 in the Lancet medical journal, which reported on an estimate based on population surveys.
"We estimate that, as a consequence of the coalition invasion of 18 March 2003, about 655,000 Iraqis have died above the number that would be expected in a non-conflict situation, which is equivalent to about 2.5% of the population in the study area. About 601,000 of these excess deaths were due to violent causes," the Lancet study asserted.
Update: Les Roberts of Columbia University and author of the Lancet report has told me following the Wikileaks revelations: "I remain confident that because people are systematically prone to under-report deaths, our 600,000 violent death estimate by mid-2006 was too low!"
He picked out these points as the major ones:
"A) It is likely that the IBC and Wikileaks reports tend to have the same lens (many reports coming from the Government of Iraq, oversampling of Baghdad, oversampling of the largest events and missing single killings).
B) We have shown that most violent deaths in the press over the first 4 years of the war are not in IBC because they (cautiously) required multiple press reports and (unavoidably) used a few search terms that did not capture all events.
C) In Baghdad where we believe the press coverage was by far the best, we showed that most violent deaths reported in phone and Skype interviews were not in IBC.
D) There are just so many things that are not consistent with 120,000 deaths! The ORB 11/07 and BBC (see: http://news.bbc.co.uk/1/shared/bsp/hi/pdfs/19_03_07_iraqpollnew.pdf ) polls that are completely at odds with the IBC implication that 1 in 20 or 1 in 25 Iraqi households have lost someone to violence. The ORB implication that 1 in 4 households have lost someone matches all the ground reports I hear. You cannot have the Iraqi Ambassador reporting half a million new war widows or UNICEF speculating that there are a million orphans if there are 120,000 war deaths."
Further update: Les Roberts' comments have drawn fire from his opponents. Robert Shone, for example has e-mailed with these comments:
"A) (On the previously unknown 15,000 deaths, IBC point out that: "The majority of these new deaths come from small incidents of one to three deaths". If the WikiLeaks report had the same "lens" as IBC on size of incidents, as claimed by Roberts, this wouldn't be the case).
B) Roberts hasn't "shown" this anywhere. I suspect he's making similar unfounded claims to the ones he makes in C), which I've already shown is false.
C) That's false. Roberts's study found that "38%" of deaths "were absolutely not in the [IBC] database". The majority (62%) were included by IBC. The only way Roberts can make the above (false) claim is by ignoring the records in IBC's database which came from morgues, etc
D) The comment about widows is completely bogus, as around 490,000 women would be widowed over a seven year period regardless of war (making a pro-rata population comparison to rate of widowhood in the US, for example). This issue has been debated a lot, and the conclusion among the informed seems to be that there's currently no way of knowing how many of the widows are due to the recent conflict, to previous conflicts (80s & 90s), other factors, etc."
This argument runs and runs.
However, this argument goes beyond numbers.
Numbers do not greatly impress Iraqis, who know very well that thousands were killed, often in ones and twos in the kind of incident recorded above and which the IBC says form by far the largest proportion of logs containing casualty data.
The argument now goes to the question of disclosure during conflict. The co-founders of the IBC, Hamit Dardagan and John Sloboda, have written in the Guardian following the Wikileaks revelations: "It is time for governments to realise that the early, voluntary release of casualty information in the conflicts they are embroiled in is the correct thing to do, both from a moral and a pragmatic standpoint."
The Pentagon itself did release some general figures in October, which suggest that General Franks' dismissal of body counts is no longer followed even there. It said that nearly 77,000 Iraqi civilians and security forces were killed between January 2004 and August 2008.
Geoff Morrell, the Pentagon spokesman said of this case: "We deplore WikiLeaks for inducing individuals to break the law, leak classified documents and then cavalierly share that secret information with the world."
The military argument has often been that in the heat of battle unit reports are not always reliable and therefore a total casualty figure for civilians cannot be relied on.
The detail given in these leaked logs appear to show that units are quite keen to give numbers and that these could in future be compiled by some central counting system.