Insecurity in Sanaa as Westerners targeted once again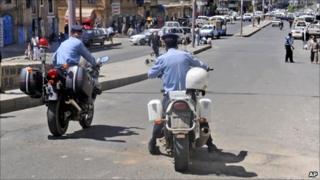 Western nationals working in Yemen will once again be considering their personal security measures.
The small number of diplomats, consultants, aid agency staff and energy sector employees based in Yemen's capital, Sanaa, are growing used to increasing restrictions on their personal freedom, which tighten after every security scare.
Wednesday's attacks come six months after the outgoing British ambassador, Tim Torlot, was targeted in a failed assassination attempt in Sanaa. The new British ambassador, Jon Wilks, is due to take up his post within a matter of weeks.
Two "near-miss" attacks in six months will raise questions about the role the British are playing in Yemen, and why British diplomats are repeatedly being targeted by al-Qaeda-style groups.
Moving targets
On a practical level, the British embassy - which sits directly on a main road, opposite the landmark Movenpick hotel - is currently more accessible than the US embassy.
Trucks and cars roar past the gates of the British embassy on a busy dual carriageway, while the US embassy is now cordoned off to passing traffic and all visiting vehicles require advance security clearance to enter the American cordon.
Similarly, the US ambassador lives inside his embassy compound, while the UK ambassador has to commute across town every day to reach the office. There is simply more opportunity to strike high-profile British targets.
British military trainers have been working closely with the Yemeni government for several years, supporting both the coastguard and the counter-terrorism unit.
American military trainers and planners are playing a more significant role, which includes sharing intelligence and conducting secret joint operations with the Yemeni military.
Earlier this year, US officials admitted that a radical Yemen-American cleric, Anwar al-Awlaki, had been placed on a controversial hit-list, authorising his targeted killing. Awlaki's tribe have promised vengeance if "a hair of [the preacher] is touched".
Friends of Yemen
Many Yemenis are hostile to US foreign policy in the Middle East and the UK, as a prominent US ally, is associated with America's wider agenda in the region.
The British government is currently playing a leading role in the Friends of Yemen, an informal contact group of more than 20 donor countries, which was established in London in early 2010.
When the Friends of Yemen met last month in New York, they agreed an ongoing package of support that includes political and economic measures, in addition to initiatives on security and rule of law. This comprehensive approach is unlikely to change, as British officials discuss the fall-out from the latest attack.
There is high-level recognition within the British government that Yemen poses an increasing threat to regional and international security, and an awareness that security conditions are deteriorating.
When I first visited Yemen four years ago, it was considered safe for Westerners to move around freely in the streets of the capital, Sanaa.
These days, Westerners try not to establish a daily routine and many deliberately vary their route to and from work, to reduce the risk of a planned attack.
Bargaining chips
In addition to the rising threat from al-Qaeda-style militants, I have heard several anecdotal accounts of attempted kidnaps from Western contacts living in Sanaa.
Yemeni tribes have a long tradition of kidnapping foreigners as bargaining chips to extract concessions from the government, but the fact that this practice is shifting from the tribal regions to the capital suggests that the government's grip is weakening and the country as a whole is becoming increasingly insecure.
In addition to tackling terrorism, the government confronts a southern secessionist movement and a sporadic civil war in the north, which is currently subject to a precarious ceasefire.
Oil production is plummeting and the riyal has dramatically dropped in value against the US dollar during the last year.
Yemeni families are struggling to cope with rising food prices and civil servants complain that the government is failing to pay salaries.
Yemen's economic crisis presents the challenge of maintaining security and stability with ever fewer resources. Today's attack on two Western targets in the capital is unlikely to be the last.
Ginny Hill is an associate fellow at Chatham House in London, where she runs the Yemen Forum.